Italy and fabulous culinary experiences are synonymous. It's the land of pasta, prosciutto, and prosecco. Even if you've never traveled and experienced Italy firsthand, chances are you've experienced Italian dining. The cuisine is unique, and we'd venture to say that there are very few people that don't love something about Italian food and drink.
Disclosure: When you buy using links on this page, we may get a small commission, so thank you!
This is the reason Italian related cooking gifts are a fantastic idea. Whether you're bringing a hostess gift, a wedding gift, or buying something for a co-worker, these Italian cooking gift ideas will be well-received. Check out our list of fifteen great Italian inspired cooking gifts below.
1. Charcuterie Board And Utensils
Look at this wonderful gift idea. Charcuterie is one hallmark of why we love Italian food. From perfectly spiced salamis to delicate antipasti, from the perfect rind of parmesan to a handful of dried figs, you can transform this tray into a taste of the old country.
It comes with so many perfect service pieces hidden away inside of a pull-out drawer on the board itself. Cheese knives, wine openers, small forks, and even dainty ramekins for sauces are just a few of the tools included. It also comes with an illustrated booklet to give you ideas for ways to serve and use the board.
Click here to see this on Amazon.
2. Gourmet Bundle From Tuscany
This gourmet bundle of organic and sustainable items comes straight from Tuscany. The package includes extra virgin olive oil, balsamic vinegar, two unique kinds of pasta, and two different pasta sauces. The olives for the oil are handpicked, unfiltered, and cold-pressed in a climate-neutral oil mill. The aroma is lively and intense. The package is produced by Fattoria La Vialla, one of the oldest organic farms in Tuscany, Italy.
Click here to see this on Amazon.
3. Biscotti Gift Box
Biscottis go hand in hand with Italian coffee. The crunchy, flavorful cookie is a staple of the afternoon cup of coffee with a little treat on the saucer. This gift box is beautifully packaged and contains eighteen individual cookies with about nine different topping flavors. The cookies are traditional biscotti flavor with a coating of white, milk, or dark chocolate, then other toppings. Perfect gift for a party or hostess.
Click here to see this on Amazon.
4. Ceramic Italian Themed Spoon Rest
For the spoon that serves the sauce, why not get this charming Italian inspired ceramic spoon rest? It features an Italian couple and the saying "Kiss The Cook, She's Italian" underneath "Buon Appetito." Have a Nonna that needs a present? This thoughtful kitchen charmer is an excellent choice.
Click here to see this on Amazon.
5. Limoncello Jar And Shot Glasses
Limoncello is a delicious liquor made in Italy. Sweet lemon flavor accompanies the kick of an alcoholic punch. Use it on ice cream or in martinis. Flavor it with some rosemary and use it as a marinade for a piece of fish. And definitely give it as a gift.
Here, your limoncello comes in a hand-painted keepsake corked jar, along with two matching shot glasses. Lively lemons are painted on the sides, and blue accents give these pieces depth.
Click here to see this on Amazon.
6. An Apron For The Italian Chef
Need a gift for someone of Italian heritage? This apron scoffs in the face of recipes proclaiming that the wearer doesn't need them because they're Italian. This poly/cotton blend apron is adjustable, has two front pockets, and a non-fading graphic. Throw it in the washing machine when it gets dirty.
Click here to see this on Amazon.
7. Italian Chef Salt And Pepper Holder
This cute little guy has the vibe of our movie image of an old-school Italian chef. He'll be there to cheer you on as you whip up the perfect pasta sauce. Need a little salt? Chef Mario is your guy. Want to kick it up with some pepper? His smile is there to encourage you as you cook.
Made of poly-resin, this figurine is about 7" tall and 5" wide and deep. The salt and pepper shakers are glass.
Click here to see him on Amazon.
8. Limoncello Shot Glass Set
Have a party to attend? Grab a bottle of limoncello to amoretto at your local liquor store and pair it with this shot glass set. Six dainty glasses sit atop a coordinating tray. They are made of hand-painted ceramics from an artist off of the Amalfi Coast.
Because this set is artisan made, it's best to hand wash the pieces for long-lasting wear.
Click here to see this set on Amazon.
9. Tempered Glass Cutting Board
This cutting board, made from break, scratch, and stain-resistant tempered glass, is perfect for bringing back memories of a trip to Italy. It is digitally printed with a scene from a provincial Tuscany town. Use it for serving your favorite cheeses or antipasti. This piece can go in the dishwasher.
Click here to see this on Amazon.
10. Nonna's Kitchen Plaque
Have a Nonna that you love? If you do, then you know the kitchen is the heart of her home. What better way to commemorate her food is love philosophy than with a decorative plaque commemorating her special place?
This piece is 10" wide, 5" tall, and about 1/4" thick. It's printed on a wood composite and hung with a simple piece of included twine. Easy to clean and dust by simply wiping with a damp cloth.
Click here to see this on Amazon
11. I Am An Italian Mug
Have a spicy Italian friend? Consider this equally spicy mug as a gift. It says, "I am an Italian, I was born with my heart on my sleeve, a fire in my soul, and a mouth I can't control." If you've ever hung out in an Italian kitchen, you know this is a fact!
This mug is printed with no-fade technology and is machine-washable. Packed to ensure it won't arrive broken.
Click here to see this funny mug on Amazon.
12. Small Antipasto Dish
Here is a lovely birthday or hostess gift. A two-compartment antipasto dish is perfect to hold olives or small peppers. Each piece is hand-painted by an Italian artisan with stylized fruits and vegetables on its surface. It is part of the Frutta Lacatta Collection and comes with a certificate of authenticity. There are many other serving pieces available by this same company in this same collection if you want to add on to the gift.
Click here to see this on Amazon.
13. Vintage Posters - Olive Oil And Balsamic Vinegar
For the Italian cuisine lover who also loves wall decor, these two posters are ideal. One poster depicts a bottle of olive oil and the other a bottle of balsamic vinegar. Backgrounds of patterned stone resemble the colors of an Italian villa in days of old. They are 6" wide by 18" tall and ready to pop into a pre-made frame.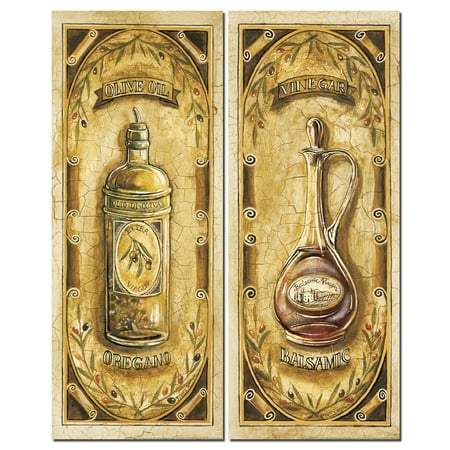 Click here to see these posters at Walmart.com.
14. Whimsical Female Italian Chef Corkscrew Holder
Much like the salt and pepper chef in #7, this charming chef is here to help with your wine needs. In one hand, she holds her own tiny bottle of chianti, in the other a corkscrew and bottle opener. You won't lose this important utensil when someone as adorable as Chef Teresa is holding it for you.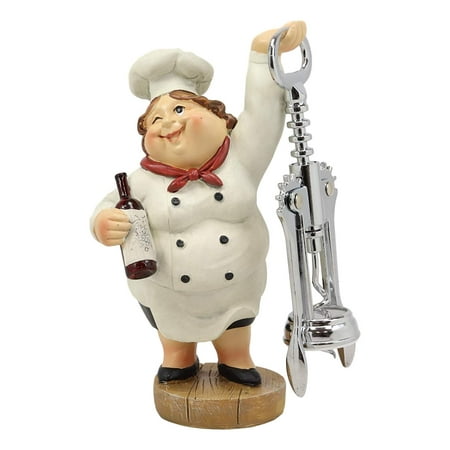 Click here to see this on Walmart.com.
15. Mastering The Art Of Italian Cuisine
And for our final gift, we have the ultimate necessity for the lover of Italian food. Lidia's Mastering the Art of Italian Cuisine is a cookbook that will teach you everything you need to know to make perfect Italian dishes. Combine it with any of our other gift ideas for a real stand out for the recipient. With over 400 recipes, it teaches the reader techniques for Italian cooking, along with tips of the trade.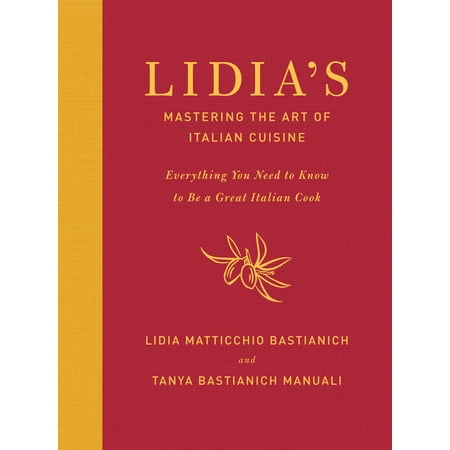 Click here to see this on Walmart.com.
And that concludes this list of awesome ideas for an Italian cuisine inspired gift. If you enjoyed this gift list, please check out these others here at KitchenSeer.com below:
14 Luxury BBQ Gift Ideas For The Man Who Has It All