If you have taken notice of your man's finesse either behind the grill or over the stovetop, you are not alone. The Washington Post took notice to report that 43% of men are cooking at home, a significantly higher proportion than 30 years ago.
Disclosure: When you buy using links on this page, we may get a small commission, so thank you!
We know that the man in your life holds a special place in your heart and your kitchen. So when you are looking for the perfect gift for your husband, brother-in-law, father, or friend, why not consider a kitchen utensil, kitchen accessory, or cooking-themed novelty item?
Show your man that you appreciate his time in the kitchen by giving him the tools to cook even more! Check out our list of 27 awesome kitchen gifts for the man in your life, to keep cooking fun and functional.
1. Grilling Apron
You know he loves to grill, and he will wear this grilling apron confidently because he knows, "...You're Gonna Love My Meat." Made from heavy-duty canvas, this apron not only displays a catchy phrase but is fully equipped with durable, sewen-in pockets. Your man can keep condiments, phone, and beer handy while grilling. The comfortable apron protects his clothes from splatters for fashionable service.
Click here to find this on Amazon.
2. Millennium Falcon Bottle Opener Keychain
Let the force of this bottle opener be with your Star Wars fan wherever he goes. Engraved with meticulous detail on one side. By pocketing this key chain, he'll be the chosen one to crack open the drinks when friends gather 'round.
Click here to find this on Amazon.
3. Grill Masters Club Subscription
Is your man always concocting new BBQ recipes? The Grill Masters Club is the perfect match for him! Gift a subscription to the Grill Masters Club, and he'll receive monthly boxes filled with top-shelf flavors, chefs' choice tools, and taste-tested recipes.
Each box contains four to five products that have been grill master approved (bbq sauce, rubs, marinades, grill tools, wood chips & recipes). Plus, subscribers have unlimited access to the Grill Masters Club community of savvy chefs who share weekly recipes, video demos, and expert tips.
Click here to subscribe to the Grill Masters.
4. Golf Club 7-Piece Grill Set & Accessories
Don't let your golf enthusiast putt around the grill. With this utensil set, he will be sure to hit a hole-in-one. Stainless steel utensils including tongs, fork, basting brush, slotted turner, and silicone basting brush pack neatly into a golf tote storage case. No penalties for a pickup because these golf balls are salt and pepper shakers. Utensils and shakers are dishwasher safe.
Click here to find this on Amazon.
5. Guitar Neck Bamboo Utensils
Love of music and cooking goes hand-in-hand when your man uses these guitar neck bamboo utensils in the kitchen. Each utensil is 11.75" long, ideal for serving, mixing, and flipping foods. All-natural bamboo is heat, odor, and stain-resistant. Suggested hand wash only. Packaged thoughtfully in a guitar-shaped gift box.
Click here to find this on Amazon.
6. Flashlight Gloves
A true outdoorsman does not stop cooking when the sun sets. Wearing these brightly lit, LED gloves will let your man continue to cook either at the grill or over an open campfire after dark. Shining light from his fingertips, he can grab the right utensils to maneuver food and check meat for doneness. One-size-fits-all thanks to an adjustable Velcro strap.
Click here to find this on Amazon.
7. The Good Hurt Fuego Sauces
Spice things up in your kitchen with a gift set of seven exotic hot sauces. Packaged cleverly to resemble dynamite, you will blow his mind when he realizes he can pair explosive flavors to a variety of foods. Ranging from mild to hot, enjoy together whiskey habanero, chipotle pepper, smokey bourbon, and garlic herb, among others.
Click here to find this on Amazon.
8. Wine Savant World Decanter
Indulge the connoisseur in your life, as you sip together and dream of far-off places to travel. Mouth-blown glass forms this elegant decanter with an intricate sailing ship inside. The decanter will aerate any bourbon, whiskey, wine, or beverage, so it is ready for serving from the included globe-etched glassware. A functional, decadent display piece for any man's home.
Click here to find this on Amazon.
9.  "Dear Dad" Ceramic Mug
Put a smile on Dad's face with this gag gift, a humorous mug. Durable ceramic is dishwasher and microwave safe. This mug will fit perfectly between Dad's hands, so he can have a silly moment while drinking either hot or cold beverages.
Click here to find this on Amazon.
10. Batman Signal Kitchen Timer
Shine the spotlight on the superhero in your life when you gift this Batman signal kitchen timer. Tilting lamp comes aglow when the timer ends to signal the chef his meal is ready by brightly projecting the Batman logo onto a wall. Batteries included.
Click here to find this on Amazon.
11. Ultimate 22-Piece Grill Set
Your man has not only mastered the grill, but he is also a true pro! Give him the tools he needs to tantalize your tastebuds with this 22-piece, stainless steel grill set. Utensils' sleek design pack effortlessly into a lightweight, aluminum storage case. He will have everything he needs for any grilling location, including slotted turner, tongs, fork, knife, skewers, corn holders, basting brush, and grate cleaning brush. All utensils are dishwasher safe.
Click here to find this on Amazon.
12. Bear Claws Meat Shredders
Give your man the set of paws he needs to grip, pickup, and shred his specialty BBQ meats, so he will have more time spent enjoying the meal among family and friends. Meat shredders prevent burnt fingers while making quick work of shredding pork, chicken, and beef between widespread prongs. Strong enough to not bend under strain, the bear claw comfort grip handle has plenty of knuckle room to spare for larger hands—dishwasher safe.
Click here to find this on Amazon.
13. The Meat Eater Fish & Game Cookbook
Nationally renowned outdoorsman, Steven Rinella, exposes the most delicious recipes from his experiences in The Meat Eater Fish & Game Cookbook. Give the gift of healthy cooking techniques to your man with this collection of both exotic and straightforward recipes to prepare fish, waterfowl, big game, and small game.
Click here to find this on Amazon.
14. A Man, A Pan, A Plan Cookbook
Your man will have fun cooking healthy meals from this cookbook published by Men's Health Magazine. It is compiled with 100 recipes for one-pan meals made from basic, wholesome ingredients.
Click here to find this on Amazon.
15. Thug Kitchen The Official Cookbook
Thug Kitchen keeps it real, so your man can turn up the heat in the kitchen when he prepares any of the over 100 recipes featured. Outrageously popular on the web, Thug Kitchen brings flavor back home by using affordable, creatively paired ingredients and genuine cooking techniques. Eat healthy. Eat delicious.
Click here to find this on Amazon.
16. Novelty T-shirt
Your man will dress to impress and share his love of food when he wears this soft, 100% cotton t-shirt. Quality comfort t-shirt has a screen-printed phrase, "Pho King Delicious," to inspire a smile from passersby. Machine washable.
Click here to find this on Amazon.
17. Hot Sauce Making Kit
Allow your man to master the science of cooking, with everything he needs to hand-craft intense, new hot sauce flavors. Follow the recipe cards, and use the included equipment to mix and match the finest quality spice packs, including ancho pasilla, chipotle, habanero, and ghost peppers. At the next BBQ, he can proudly serve his special sauce.
Click here to find this on Amazon.
18. Captain America Shield Cutting Board
Every marvelous man deserves to prep his ingredients by using this Captain America shield cutting board. He'll appreciate this bit of kitchen flair because the tempered glass surface is odor and stain-resistant. Non-skid pads on the base keep the shield held fast as he slices, dices, and shreds. No-fuss wipe clean. The 12" x 12" shield is heat resistant up to 350°F.
Click here to find this on Amazon.
19. "The Grillfather" Cutting Board
Give Dad a gift to last a lifetime with this durable, 100% hardwood cutting board. Unique laser-etched design shouts praises to Dad's grilling skills each time he carves the main course. Finished with food-grade oil, this cutting board is easy to clean and resistant to odors and stains.
Click here to find this on Amazon.
20. Man Crate Grill Master
Watch with excited anticipation as your man busts open this wooden Man Crate with the included crowbar opener. Inside, this crate is overflowing with grill master gear. He'll be treated to professional-grade iron smoker box, tenderizer, hickory wood chips, and four steak thermometers. Fire up the grill and let your man do his finest work, topping off every morsel with Man Crate BBQ sauces.
Click here to find this on Amazon.
21. Novelty T-shirt
Your dad will chuckle when you give your admiration for his grilling skills with this comic t-shirt. Everyone will give way when Dad coolly  approaches the grill wearing this 100% cotton t-shirt with the screen-printed phrase, "Stand Back Dad is Grilling." Machine washable.
Click here to find this on Amazon.
22. "A Soldier Fights Because" Ceramic Mug

Easy to grasp, 11-oz. mug lets your man you know his love is reciprocated when he reads the inscription, "A Soldier Doesn't Fight Because He Hates What is In Front of Him He Fights Because He Loves What He Left Behind." Microwave and dishwasher safe.
Click here to find this at Walmart.
23. "Real Men Cook" Ceramic Mug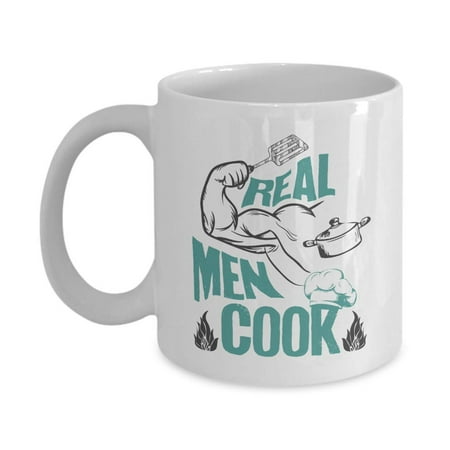 For any man who is a true chef at heart, this ceramic mug is the perfect gift. Let him know you love him for who he is. Boldly stated, "Real Men Cook," adorns this 11-oz., ceramic mug. Microwave and dishwasher safe.
Click here to find this at Walmart.
24. Copper Grill Mat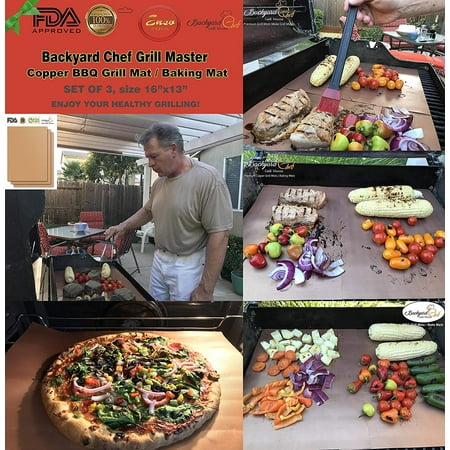 If your man loves to grill, give him the ease of a smooth cooking surface with this copper grill mat. This mat is 100% guaranteed by Backyard Chef Bake & Grill Master to provide the ultimate kitchen tool. Use the copper grill mat atop gas grills, charcoal grills, electric grills, and even inside the oven as a liner. Copper conducts heat evenly, and the smooth mat prevents food from falling between grates. Non-stick surface is dishwasher safe. Set of three 16" x 13" copper mats.
Click here to find this at Walmart.
25. The Essential Cookbook for Men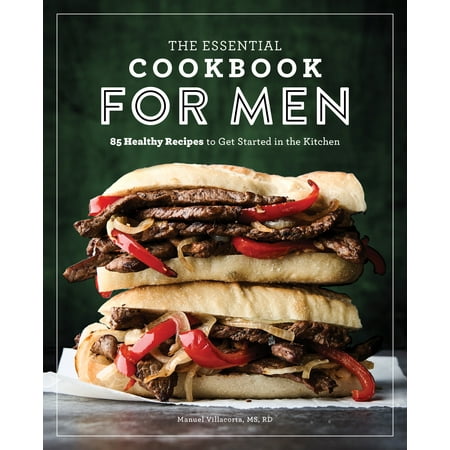 The title says it all; your man only needs to have this cookbook added to his kitchen reference library. The Essential Cookbook for Men provides a culinary tutorial on how to shop for ingredients and what techniques to use for cooking different foods. Your man will become a pro after sharing these 80 healthy recipes.
Click here to find this at Walmart.
26. The Original Jerky Gun Kit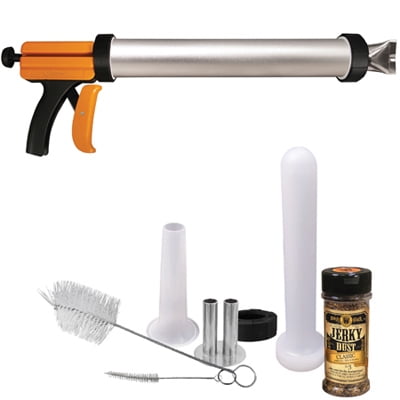 Give the gift of preservative-free, homemade jerky when you give your man the original jerky gun kit. Fully equipped to process ground meat, the jerky gun comes with stainless steel attachments for squeezing single stick, single snack, double stick, and double snack jerky. Kit includes funnel and stopper for quick-loading and bonus sausage funnel. The jerky gun is dishwasher safe and comes with large and small cleaning brushes for deep cleaning.
Click here to find this at Walmart.
27. Man Crate Sausage Making Kit
Your man will love making his own encased meats the old-fashioned way with this sausage-making kit by Man Crate. He can get creative with his own flavorings, or season sausages with included spice blends. The NorPro Deluxe Grinder/Mixer is the perfect tool for processing beef, chicken, game, and poultry. Get started by cranking out sausages into Sonoma Meat Company casings, provided with the kit. This Man Crate does not require cracking; the equipment is shipped in a reinforced cardboard box.
Click here to order your customized Man Crate.
After unwrapping his gift, your man will want to set to work cooking! Don't forget to send him our way first, for great tips on how to use his new kitchen accessories like:
What Happens When the Meat Thermometer Touches the Bone 
Can You Use a Griddle on a Gas Stove (And How)?