Is there a man in your life who loves nothing more than getting outside on a warm day to BBQ for his friends and family? You know the guy — big heart, big smile, and a big need to make delicious food for the people he loves.
It's time to consider BBQ related gift ideas! From amazing grills to outdoor entertainment equipment and the most luxurious of barbeque tools, we've compiled a list that will make you his favorite gift-giver. His grill mastery is a gift, so why not recognize that expertise with a unique gift? Check out these 14 amazing gift ideas for your favorite grill master.
1. Royal Gourmet 8-Burner Gas Grill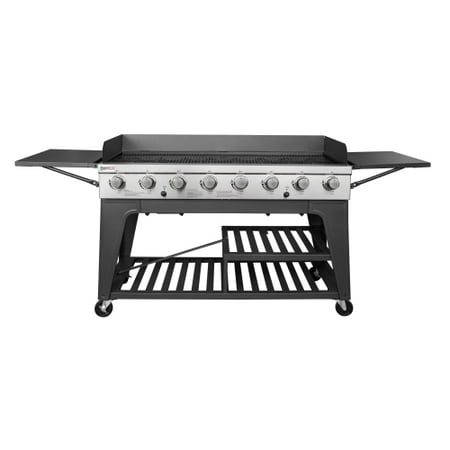 Does your guy love to cook it up for the masses? Then this grill will have him dancing with his tongs. Made by Royal Gourmet, this beast puts smaller grills to shame. A whopping 969 square inches of cooking area with 5 different cooking grates means this grill can hold 60 burgers or 120 hot dogs at the same time.
Cook for the whole office, little league team, or ultimate frisbee tournament. It's powered by propane and an LP tank secures to either side of the two-level, open cart. It has a draw out drip tray and removable grease cup to make cleaning easier.
Click here to see more on Walmart.com.
2. Bradley Six Rack Smoker
He's ready to branch out from simply BBQ. Maybe he's a fisherman or a hunter and wants to prepare the meat he's gone out and caught. A smoker is a great way to preserve his game and expand his culinary abilities beyond the BBQ grill.
This 6-rack digital smoker has all the great features you'd expect from an electric smoker. The temperature, time, and amount of smoke are totally in his control with this piece of equipment. It's great for smoking salmon, venison, or even meats like chicken and pork. It makes us hungry just thinking about it.
Click here to see this on Amazon.
3. Barrel Portable BBQ Grill
Is your guy a camper as well as a BBQ master? This handy design is easy to transport and is fueled from charcoal, so no need to worry about the gas being low. It's based on a traditional barrel design and comes with foldable table sections.
Lift it up and roll it where you want it. It's made out of powder-coated steel and includes two cast-iron grates for cooking. Removable charcoal drawers allow you to add or dump charcoal briquettes easily.
Click here to see this on Amazon.
4. Electric Lamb Roaster
Does your guy dream of pig roasts or cooking the Easter lamb? This electric roaster makes it easy. The roaster turns your meat for a nice even cook while there is room for other cuts below on the grate. The wind-proof plate helps things from getting too cool if the wind is blowing across your cooking patio. The stainless steel construction is sturdy and well-made.
Click here to see this on Amazon.
5. Portable Tabletop BBQ Grill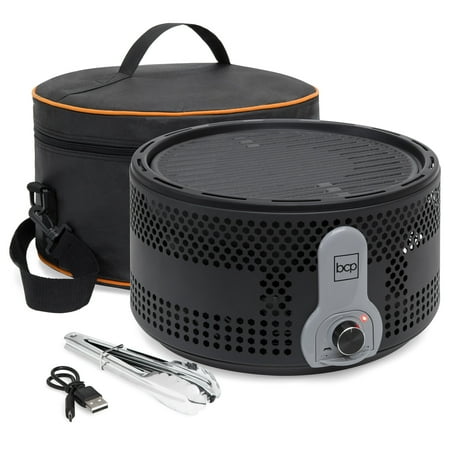 Have grill, will travel can be your favorite BBQ guy's new motto with this handy tool. This small BBQ grill complete with a travel bag and tongs can be taken to friends backyards that have no grill. Powered by 4 AA batteries or a USB cable, the fan will help keep the minimal amount of charcoal you need burning brightly. It's a compact 13.5" in diameter and 7.5" high. This is a really cool gift!
Click here to see more on Walmart.com.
6. Leather Culinary Apron
This beautiful Boska Holland apron is crafted in the Netherlands. Made of split leather, the craftsmanship is remarkable. This is an apron that will last for years; your griller might even be able to pass it down to the next generation of grill masters.
It has a pocket to insert your tools and a loop for your tongs. The more it's worn, the softer it gets. When it gets dirty, it simply needs to be wiped down with a wet cloth. This is a fantastic gift for the BBQ enthusiast.
Click here to see this on Amazon.
7. Heat Resistant Gloves
Nobody wants to get burned handling hot tools or grill lids. These insulated five-finger gloves allow you to move around hot meat without worrying about burns and to pull BBQ-ed pork and chicken like a professional.
Double-layered soft cotton lines the inside for long-wearing comfort. When they get thick with grease, just wash them with some dish soap and water and hang them to dry. Tell your favorite BBQ fan how much you love them by keeping their fingers safe from burns.
Click here to see these on Amazon.
8. Portable Outdoor Table
Grilling is great but if you don't have an outdoor kitchen, your favorite grill master might feel that they need some more space. This portable outdoor table and cabinet is a great option for creating that space. It includes 2 sidebars for paper towels, a hook holder with 4 hook hangers, a spice rack, and a bottle opener.
The top surface is smooth stainless steel which is an easy clean surface for any food prep that needs to be done. The bottom cabinets and middle shelf can hold plates and napkins and anything else you may need for the afternoon.
Click here to see this on Amazon.
9. Cuisinart Deluxe Grill Set
Here is a beautiful set of grilling tools for your favorite BBQ aficionado. This deluxe set includes a chef's spatula, grill tongs, a silicone basting brush, 8 corn holders, 5 skewers, a cleaning brush, a replacement brush head, and a digital temperature fork, all included in an aluminum storage case. The durable stainless steel construction means these will be around for a long time.
Click here to see these on Amazon.
10. Remote Smart Phone Meat Thermometer Set
Do you know a guy who's the host with the most and the grill master? Then this set of remote meat thermometers may be an absolute godsend. Connect these thermometers with an app on your smartphone and cook to perfection while having a beer and chatting with friends.
No need to hang at the grill when these thermometers are keeping an eye out for you. They can also be used without your phone with the connected unit.
Click here to see this on Amazon.
11. Weber iGrill Thermometer
Here's another remote grill thermometer for you to consider giving as a gift. iGrill 3 is ONLY compatible with Weber Genesis II, Genesis II LX, and Spirit II gas barbecue gas grills and permanently mounts to the side table. If that's the type of grill he has, then this is a very cool gift.
It's compatible with most Android and iPhones, but be sure and read the description to make sure it works with your phone.
Click here to see this on Amazon.
12. Meat Injector Syringe

Who doesn't love a great marinade? This meat injector syringe is a super gift that will pack a lot of punch with flavor. It will infuse flavor deep into your cuts of meat and give them amazing flavor. This is a great gift for the BBQ master.
Click here to see this on Amazon.
13. BBQ King Hoodie
This stylish hoodie is perfect for the kids to give their favorite grilling granddad or papa. A banner that says BBQ King sits below a crown of crossed fork and spatula. It's a pre-shrunk poly/cotton blend and available in several different colors. It has a comfortable pouch pocket and a double-ply hood with drawstrings.
Click here to see this on Amazon.
14. BBQ Face Covering
This handy face bandanna makes smoke a non-issue. Pull it up when the grill gets smoking and keep it out of your lungs. This is a super inexpensive gift for your favorite BBQ fan.
Click here to see this on Amazon.
We sure hope you found the perfect gift for your favorite grill guy. Whether it's the classic leather apron or the full-on 8 burner grill, you can't go wrong with any of these perfect items.
If you enjoyed this list, please check out a few others:
8 Types Of Cooking Thermometers You May Need
Top 10 Heavy-Duty Kitchen Tongs