Are you lucky enough to have a mom that loves to cook? She spends hours poring over recipes and delights in getting special ingredients. Food, to her, is love, and to you, it's heaven. So what better way to support a mom who loves to cook than with gifts geared toward her special passion. We've compiled a list of 33 incredible items for you to peruse. You'll find the perfect gift idea for the mom chef in your life.
Disclosure: When you buy using links on this page, we may get a small commission, so thank you!
Kitchen Appliances Gift Ideas
1. Mickey Mouse Waffle Maker
This neat design creates one beautiful waffle in the shape of Mickey Mouse's head, big ears and all. It has a non-stick cooking surface and non-skid feet. The waffle is 7" in diameter.
Click here to see this on Amazon.
2. Watermelon Whistling Tea Kettle
This absolutely adorable 2-quart stainless tea kettle is made in the likeness of a watermelon. From the striped sides to the cute pink top with stem, the designers really thought this one through. This is a super cute addition to the kitchen.
Click here to see this on Amazon.
3. Snoopy Silicone Microwave Popcorn Maker
This microwave popper is shaped just like Snoopy's dog house. Cook and serve your popcorn in the same container. It's easy to wipe clean to make that second serving.
Click here to see this on Amazon.
4. Half Dozen Cupcake Maker In Hot Pink
This non-stick festive cupcake maker will make your mom the star of the party. Available in magenta, teal, or brilliant red, it's easy to cook up to six cupcakes perfectly. The indicator light is a great sign of pre-heat and completed cooking. It has a safety lock built into the handle and non-stick feet for safety on the counter.
Click here to see this on Amazon.
5. Three In One Breakfast Maker Station
This is the handiest little appliance there ever was! A four-cup coffee pot, a toaster oven with a baking tray, and a 6" griddle. You can fry an egg, toast some bread, and brew your coffee all at the same time. One handy off and on switch works for the whole unit. Plus it's a bright, vibrant red.
Click here to see this on Amazon.
Cookware Gift Ideas
1. Le Creuset 12-Piece Cookware Set
This beautiful set will make a colorful addition to Mom's kitchen. It comes with a saucepan, frypan, a lidded dutch oven, a lidded baking dish, several spatulas, and a caddy to hold them. The two lidded pieces, the tools, and the caddy are all in a gorgeous turquoise blue, though they are also available in red, grey, and white.
Click here to see this on Amazon.
2. Iridescent Handles Cookware Set
Brighten up the kitchen with this festive cookware and spatula set. All of the handles and lids are made out of iridescent rainbow-hued stainless steel. This is super fun cookware that your mom will love to receive as a bright and shiny gift.
Click here to see this on Amazon.
3. 5-Piece Ceramic Cookware Set In Soft Pink
This rosy kitchen set provides all kinds of pastel cooking goodness. Available in soft pink or soft blue, the set is made out of non-stick ceramic-coated aluminum. It includes two silicone grippers for lifting hot-handles off of the stove.
Click here to see this on Amazon.
4. Black And White Lasagna Pan Set Of Three
Three beautiful patterned baking dishes will elevate your mom's casseroles and crisps to the next level. These ceramic dishes are not only functional but look great, too. Shown here is black, but it is also available in blue and grey.
Click here to see these on Amazon.
5. Multi-Color Aluminum Pan Set
A whole rainbow of colors will surely make Mom happy to receive this gift of colorful cookware. Each piece is made out of non-stick lined aluminum with bakelite handles for no-burn pickups. They are machine or hand-washable.
Click here to see this set on Amazon.
Tools And Gadgets Gift Ideas
1. Rainbow Titanium Cutlery Set
All the cakes will be cut in style using these shiny and colorful knives. Made by Hampton Forge they have a titanium coating and are ultra-sharp and modern looking. They also have reusable blade covers to protect your blades.
Click here for these on Amazon.
2. Pioneer Woman Vintage Floral Gadget Set
Have a mom that loves flowers as much as she loves to cook? Then this adorable set of kitchen gadgets could be the perfect gift. It comes with twenty different pieces of wood, silicone, and melamine, including measuring cups, a gravy bowl, a cake server, and mixing spoons.
Click here to see this awesome set at Walmart.com.
3. Stainless Box Wine Dispenser
If your gift-receiving mom is the kind who likes a bit of wine while she cooks, then this handy wine dispenser could be the thing for her. Sleek stainless steel provides constant pressure and freshness for boxed wine. It keeps wine good for up to six weeks. This will hold up to 3 liters of wine.
Click here to see this on Amazon.
4. Rotary Vegetable Slicer
No electric outlets are necessary for this handy vegetable slicer. The rotary chopper comes with 3 different blades and will chop nuts, fruits, even cheese. It's available in several bright and cheery colors and is dishwasher safe.
Click here to see this on Amazon.
5. Little People Silicone Kitchen Utensils
This rainbow assortment of six cooking utensils is bound to make Mom happy. It's the ultimate in anthropomorphism—humanizing the kitchen gadgets. It will probably make cooking with the kids super fun, too. Give them each a name. Line them up to hold hands on the counter.
Click here to see them on Amazon.
Mugs For Mom Gift Ideas
1. Mama Bear Mug
Let Mom know how much you love her. She is the undisputable Mama Bear, fierce protector of her little cubs and should have the mug to show for it. This ceramic mug is dishwasher safe.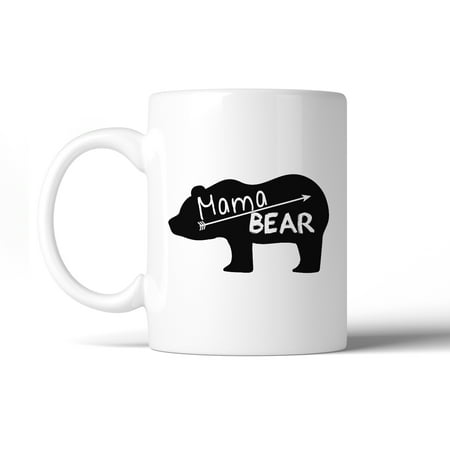 Click here to see this on Walmart.com.
2. Glass Tea Mug With Butterfly And Flowers
You want your mom to have a teacup as elegant as she is. Well, this glass mug with gilt handle and base may be the one to show her how much she is loved. The handle is topped with a ceramic rose, and it also comes with a spoon, coaster, and cleaning cloth.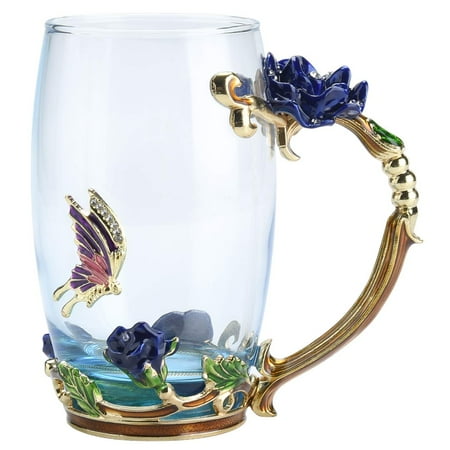 Click here to see this at Walmart.com.
3. No Matter How Hard Life Gets Mug
Want to make your mom laugh? Then give her this sassy mug with the saying "No Matter How Hard Life Gets, At Least You Don't Have Ugly Children." It also comes with a handy gift box.
Click here to see this on Amazon.
4. My Favorite Child Gave Me This Mug
Make your mom laugh with this unique mug. It reads "My favorite child gave me this mug." Everyone that sees it will know that both you and your mom have a sense of humor!
You can see it here on Amazon.
5. Super Mom Personalized Travel Mug
This travel mug is great for the working mom, the carpool mom, the mom who is always on the go. One side says "Super Mom, Super Wife, Super Tired" and the other side can be personalized with your message of choice.
See it here at Bed, Bath, and Beyond.
Apron Gift Ideas
1. Floral Best Mom Ever Apron
This cheery flared bib apron is a way to keep mom neat and tidy in the kitchen. It has a sunny floral print with coordinating patterned trim. The printed front pocket declares "Best Mom Ever" to let her know exactly how you feel.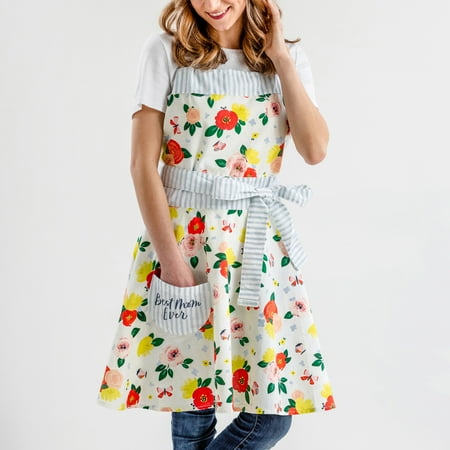 Click here to see this cute apron at Walmart.com.
2. Bold Best Mom Apron
This black apron is printed with a bold and colorful Best Mom Ever message. It has adjustable straps and is sized to fit most people (male or female). It has two front pockets and can be thrown in the wash for easy cleaning.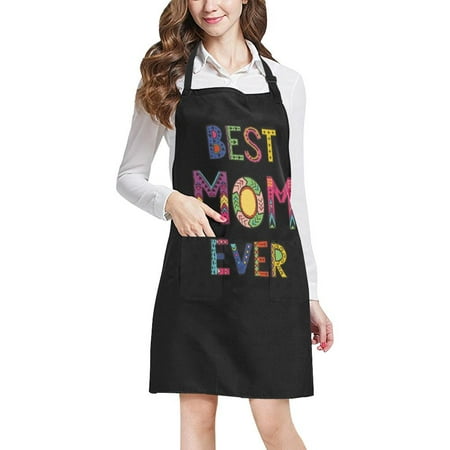 Click here to see this at Walmart.com.
3. Retro Red And Gingham Apron
Have a mom that not only loves to cook but is into retro styling? Then this ruffled, feminine apron in red with red gingham accents is a super find. Neck and back straps tie in a bow so are completely adjustable, and the fabric is non-fading cotton/poly blend. Just throw it in the wash if you get spills on it.
Click here to see this at Amazon.
4. Wife Mom Boss Apron
For the mom who loves to cook, loves her family, and works outside of the kitchen, this simple apron is simply perfection. The "Wife, Mom, Boss" slogan will cover up her workday clothes if she slips into the kitchen for some food prep before changing into sweats. This is totally adjustable and machine-washable.
Click here to see it on Amazon.
5. Bob's Burgers Wine Apron
Another great gift for the mom who loves to have a bit of a tipple while stirring the pasta. This cartoon graphic is sure to put a smile on her face. Maybe use it as the wrapping paper for a couple of bottles of wine.
Click here to see this at Cafe Press.
More Gift Ideas For Mom
1. Vintage Glass Floral Storage Bowls
These glass storage bowls are a super alternative to plastic storage containers. Each one is printed with a different vintage floral graphic, and each one comes with a lid to keep food fresh in the fridge.
Click here to see these on Amazon.
2. Pastel Coffee, Tea, And Sugar Tins
These printed tins are lovely and subtle in pastel hues with delicate floral and patterned details. One is for coffee, one is for tea, and one is for sugar, though certainly they could be used to store anything one might want to keep in a tin. They're dishwasher safe and would make a super gift.
Click here to see these on Amazon.
3. Navy Striped Kitchen Ceramic Serving And Storage Set
This 12 piece set includes 4 canisters, a butter dish, salt and pepper, a spoon rest and wooden spoon, and two egg cups all in a classic navy and white stripe. This is a charming gift for any mom's kitchen. All are dishwasher safe as well.
Click here to see these on Amazon.
4. Porcelain Tea Pot In Gift Box

A lovely porcelain teapot is nestled inside of an equally lovely gift and storage box. This will be the most beautiful serving pot for a simple afternoon tea. The floral pattern features hydrangeas and butterflies.
Click here to see this on Amazon.
5. Stackable Ceramic Measuring Cups
This country kitchen set is absolutely adorable. Little farm animals pile on top of each other, from largest to smallest, and each one represents a measuring cup measure. They are dishwasher and microwave safe and are such a perfect gift.
Click here to see this set on Amazon.
6. Handblown Glass Olive Oil Pourer
This handblown glass olive oil poured is so beautiful and unique. It's a nice way to keep olive oil handy next to the stove without having an ugly labeled bottle in plain sight. These are available in three luscious colors.
Click here to see this at Uncommon Goods.
7. Press And Measure Herb Infuser
This infuser allows you to blend your favorite herb with your favorite extra virgin olive oil. Infuse the oil with the scent and flavor of the herb, then use the handy press and measure top to get the exact amount needed for your recipes.
Click here to see this at Uncommon Goods.
8. Cold Brew Coffee Maker And Carafe
What mom doesn't love a smooth glass of cold brew on a hot summer day? This steeps your coffee slowly directly into the portable carafe. This is an amazing gift for the gourmet mom.
Click here to see this at Uncommon Goods.
That's our list of great gifts for the gourmet mom. Hopefully, the perfect item is on its way to her now. If you enjoyed this list, please check out these others below:
14 Luxury BBQ Gift Ideas For The Man Who Has It All
10 Fantastic Bamboo Food Containers You Should Check Out