You usually tote your lunch around in a plastic food container, but the staining, discoloration, and odors these can leave behind have made you eager to switch to something different. Bamboo food containers may be just the alternative you're looking for.
Bamboo is beneficial in a multitude of ways. It has great thermal resistance, as the bamboo can handle temperatures as hot as 400 degrees Fahrenheit. Its rigidity is on par with steel, not to mention its compressive strength outshines not only wood but concrete and brick as well.
If you're looking for some quality bamboo food containers, we recommend you keep reading. We put together a comprehensive shopping list for you to peruse. These containers are available in many shapes, styles, and price points, so you can find just what you're looking for.
1. Bonnedecor Bamboo Food Containers Set Of Three
Our first pick is a great value, as it's a set of three glass and bamboo food containers from Bonnedecor on Amazon. Not only do you get the containers, but you also get a thermal bag with your purchase that's perfect for carrying all your portable dishes.
The glass containers are made of borosilicate that can withstand temps of 600 degrees. Each container also boasts two dividers so you can organize your meals more efficiently without food mushing and mixing into one another.
The bamboo lids come free of any chemicals like bisphenol A or BPA. A food oil coating prevents the lids from ever rotting while a silicone ring creates an airtight seal so your food remains fresh all day.
2. 100-Percent Natural Bamboo Salt And Spice Two-Piece Boxes With Lids
Next, we've got a pure bamboo set from Estilo. These two round boxes may be intended for storing salt and pepper or other spices, but you can also use them to bring a small lunch or a snack. The boxes have a height of 2.7 inches and a diameter of 3.5 inches each.
When these bamboo food containers first arrive on your doorstep, make sure you thoroughly wash them with warm water and soap. In the future, clean the boxes with bamboo oil so your containers last even longer.
The base of each box has a magnet so that when you attach the lid, it will never come loose. Both boxes have the Estilo logo embossed onto the lids as well.
3. Collapsible Bamboo Fruit And Veggie Basket In An Elephant Shape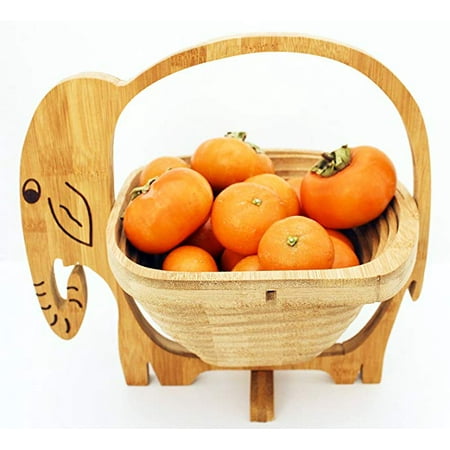 This next pick makes a great kitchen table centerpiece whether you use it for food storage or not. Found on Walmart, you get a tiered basket that starts off wider at the top and becomes smaller at the bottom. The handle of the basket is carved and painted to look like an elephant.
The coolest thing about this fruit and veggie basket is that it's collapsible. The whole thing compresses flat and can then be used as a cutting board. This is the perfect piece to pull out when having friends and family over. When you're done with it, you can just flatten it and put it in a cabinet or drawer. Easy-peasy!
4. Good Cooking Bread Box And Four-Piece Kitchen Canister Set
This Amazon's Choice product from Good Cooking gives you a lot of bang for your buck. You get an extra-large bread box as well as a four-piece set of kitchen canister pieces. Each is labeled for individual use, such as for cookies, sugar, tea, and coffee.
The bamboo lids, which are all-natural, fit securely so your food doesn't taste old and stale. Good Cooking says you can even use the big bamboo lid for the bread canister as a cutting board for slicing that same bread or anything else in your kitchen.
5. Three-Piece Modern Bamboo Canister Set With Handle Lid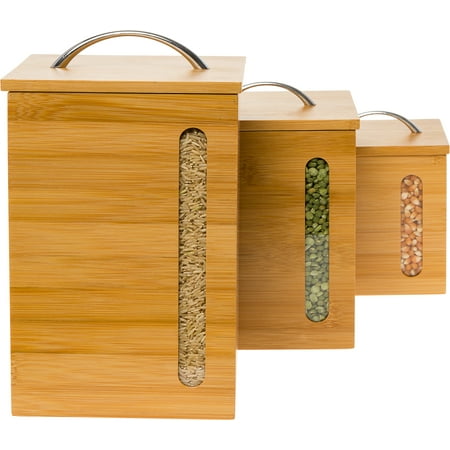 Here is another set of containers made entirely of bamboo, this time from Mindful Design on Walmart. Three containers are available in different sizes, from the smaller 30 ounces to 62 ounces and even a mighty 90-ounce canister. Each has a long, oval-shaped window at the front so you know just what you stored inside.
The farmhouse design of these canisters gives them a quaint style that will be right at home in most kitchens. Matching lids for each canister are airtight so moisture doesn't get in and create mildew and mold. Each lid also has a handle. Mindful Design recommends keeping foods like pasta, pastries, and coffee beans in the canisters, but whatever you can fit is fair game!
If you're not using these bamboo canisters, you can always stack them inside one another so they take up less room in your kitchen. Now that's smart design.
6. Lily's Home Double Round Bamboo Container
You can store bamboo in pretty fashion with this double round bamboo container from Lily's Home. It's a container with two compartments that can hold salt, pepper, or any array of spices. Other small ingredients like cocoa powder, coffee beans, nutmeg, and herbs should fit as well.
The lids don't come off, but you can rotate them open or closed. You can also partially open one side of the container so you can pour out just a dash of nutmeg or pepper. When the lids cover each of the compartments, moisture can't get in, and your seasonings stay fresher longer.
You may even get a second of these bamboo containers for keeping small office supplies or your favorite jewelry!
7. HTB Bamboo Tea Bag Container
Are you having a good time? You will with this bamboo tea bag container from HTB, as it has the phrase "good time" engraved right into the sides. The box measures 12.7 inches by 8.0 inches by 3.9 inches and contains eight chest compartments. These each measure 3.6 inches by 2.8 inches by 3.2 inches.
Besides tea, this bamboo box can also hold sugar cubes, sugar bags, tea bags, or larger herbs. Each container, while not overly large, is quite deep. The HTB tea bag container comes with a lid that attaches via magnets. A large acrylic glass panel lets you view what you stored in the container for easy access.
This is another one of those bamboo food containers that could be great for storing jewelry as well as office odds and ends if you're so inclined.
8. BigKitchen Bamboo Tea Canister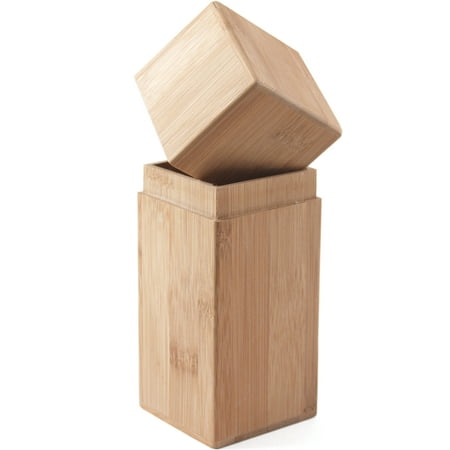 Another great pick is this BigKitchen bamboo tea canister. A tall, stately container made entirely of bamboo, the canister can easily hold all your tea bags or other loose tea-making ingredients. If you have uncooked pasta, cinnamon sticks, or the like, these should nestle right in as well.
BigKitchen says their bamboo tea canister is quite durable. It also includes a sturdy lid that screws right on so air and moisture can't get into your container. Several of these canisters on your countertop or kitchen island would be a decorative and functional kitchen addition.
9. JapanBargain Airtight Bamboo Canisters Set Of Three
These appealing bamboo canisters from JapanBargain are an Amazon's Choice product. You get three in a set, and all come in different sizes. The small canister measures 5.3 inches by 3.5 inches, the medium canister is 5.3 inches by 5.9 inches, and the large one measures 5.3 inches by 7.5 inches.
Each canister has metal hardware towards the base and around the lid, which is also primarily made of bamboo. A metal latch on the side of each canister keeps the lid securely in place so you can feel good about the freshness of whatever you store in these containers.
10. Lily's Home Barkeeper's Bamboo Salt Box
Our last pick is another one from Lily's Home. It's a barkeeper's salt box that can also double as a rim salting dish for making margaritas at home. This slim container has a diameter of 5.5 inches. It can hold more spices than you might imagine though because it's quite wide. The container also has a depth of 1 3/8 inches.
An included spoon made of bamboo makes doling out spices easy, be that for drink-making or garnishing your favorite family-friendly dishes. You could even use this box for storing and serving rice if you're feeling creative.
In Closing
Bamboo is a versatile material that's ideal for food containers. It's pesticide-free, has no BPAs, and is more environmentally friendly than plastic. From spice containers to tea canisters and jars, you can surely find a bamboo food storage option for you.
Before you go, be sure to check out these other kitchen guides:
Top 10 Heavy-Duty Kitchen Tongs