If you want to give a thoughtful, timeless gift, why not consider kitchen utensils? You might at first think utensils are boring, but on the contrary, kitchen utensils are wildly diverse and designed with both style and function in mind.
Disclosure: When you buy using links on this page, we may get a small commission, so thank you!
Kitchen utensils are used daily because everybody cooks, so they will never go out of fashion. There is a utensil for virtually every type of cooking and serving technique for any level chef. Whether your someone special prefers cooking a gourmet meal from scratch or popping frozen food into the toaster oven, you can be sure to find the right utensil to make the task even more enjoyable.
Colorful utensils add fun and flair to the kitchen. Coordinate utensils with any kitchen's decor, stored on display as a countertop or wall hanging accent piece. Highlight someone's interests by giving themed kitchen utensils. Check out our list of kitchen utensil gift sets, and you'll soon discover the perfect gift for anyone on your list.
1. Silicone Spatula Bake Set
Perfect for the frivolous baker, this quality spatula set will stir up some fun in the kitchen. The collection of three silicone head spatulas with bamboo handles are durable, stain, odor, and fade resistant. Bakers can use to whip, spread, and serve sweet and savory recipes. The whimsical design makes a cheerful addition to the utensil holder. Heat resistant to 450°F.
Click here to find this on Amazon.
2. Tribal Bamboo Utensil Set
For someone who walks on the wild side, this bamboo utensil set with a tribal motif is the perfect gift. Carved patterns will not fade or wear from use. Eco-friendly, 100% bamboo is lightweight, grip-able, and gentle on your cookware and bakeware. Hand wash only.
Click here to find this on Amazon.
3. Island Bamboo Utensil Set
Eco-friendly, bamboo utensil set lets the free-spirited cook to the beat of their own drum with these seven colorful utensils. Pakkawood technique is made by fusing layered hardwoods. Brilliant blue hue comes from the food-safe, all-natural dye. This bamboo set is non-stick and heat resistant. Convenient handle holes in large spoons and turners for hanging storage. Hand wash only.
Click here to find this on Amazon.
4. Silicone Utensil Set with Holder
Gift this 12-piece utensil set to fully equip the kitchen of newlyweds and new homeowners. Every tool needed is included and made from durable silicone and stainless steel. Gentle enough to not damage non-stick pots and pans, yet tough enough to withstand 446°F to stir, scoop, whisk, flip, and serve your hottest dishes. Stylish countertop holder fits all utensils neatly. Dishwasher safe.
Click here to find this on Amazon.
5. Teak Utensil Set with Holder
Give the rugged beauty of long-lasting wooden utensils with this eight-piece spoon and spatula set. Made from sturdy hardwood, teak utensils are non-toxic, heat-resistant, and non-stick to prepare and serve hot or cold foods with ease. Sleek utensils fit snugly into a coordinating countertop holder to display elegant wood grain patterns.
Click here to find this on Amazon.
6. Beech Wood Utensil Set
Align any kitchen with nature by gifting this eco-friendly beech wood set of utensils. Made from 100% natural material, this food-safe set is heat resistant and won't scratch non-stick cookware. Includes a honey stick, tongs, two spoons, and two turners. Easy storage with hanging holes. Hand wash only.
Click here to find this on Amazon.
7. Stainless Steel Utensil Set with Rack
Ultramodern, 12-piece utensil set is made from food-grade stainless steel. Each quality-crafted piece fits neatly into an acrylic rack for compact countertop storage. The perfect gift for passionate cooks. Set includes a set of knives (8" carving, 8" chef, 8" bread, 5" utility, 3-1/2" paring), sharpener, serving spoon, spaghetti ladle, dessert ladle, soup ladle, skimmer, and spatula. Dishwasher safe.
Click here to find this on Amazon.
8. Ceramic Cow Utensil Holder
An excellent gift for the country kitchen, a cute cow, adorns this ceramic utensil holder ready to assist home-style cooks. The weighted base will not tip when the holder is loaded with utensils. The decorative yet functional piece has been hand-painted with a high gloss finish for eye-catching results. Dishwasher safe.
Click here to find this on Amazon.
9. Bamboo Utensil Caddy with 2 Glass Containers
Any vivacious host or hostess will love receiving this stylish bamboo serving caddy. Solidly constructed, this caddy is divided into ten sections for conveniently holding napkins, flatware, condiments, spices, and drinks. Easily portable, the caddy is equipped with side handles so it can be set out on the patio table, kitchen counter, or dining buffet.
Click here to find this on Amazon.
10. Teak Spurtle Set
Perfect for the saucier in your life, give the ideal utensils for stirring sauces, soups, broths, and porridge. Eco-friendly, 100% teak set of broad-headed spurtles (13" slotted, 13" solid, 10" solid, and 8" solid) are durable and non-stick. Gentle on cookware, stir for hours without a scratch to make deliciously smooth recipes. Handcrafted spurtles feature hanging holes for convenient storage. Hand wash only.
Click here to find this on Amazon.
11. Stainless Steel/Comfort Grip Utensil Set with Rack
For the savvy sous chef who needs the right utensil for every task, gift this eight-piece, stainless steel set for no-fuss food preparation. Featuring comfort grip handles, highly efficient utensils include a pizza wheel, sharpener, can opener, egg whisk, grater, peeler, and mini strainer. The streamlined rack provides handy countertop storage. Dishwasher safe.
12. Stainless Steel/Nylon Utensil Set
Give all the kitchen essentials with this 15-piece, professional-quality utensil set. Vintage style, riveted handles provide a comfortable grip when using every utensil. Colorful set (red, cobalt blue, linen, black, or teal) coordinates with any kitchen's decor. Durable stainless steel and flexible nylon are paired perfectly for every task, whether spreading, scooping, flipping, whisking, pounding, grating, or slicing. Dishwasher safe.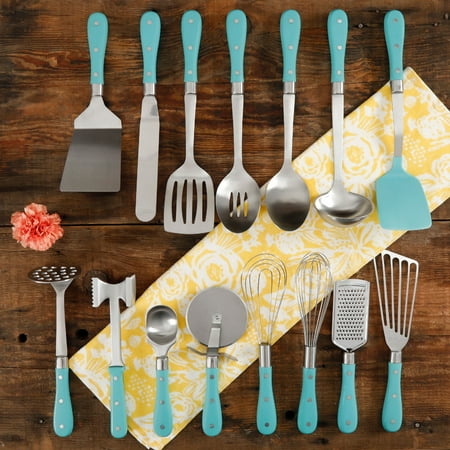 Click here to find this at Walmart.
13. Floral Print Utensil Set with Acacia Cutting Board
A heartwarming gift for any beloved cook, this 20-piece utensil set with a cutting board will fully equip the kitchen for food preparation and service. Charming floral print adorns utensils tastefully coordinate the set made from quality materials.
Precise cooks will appreciate melamine measuring cups, measuring spoons, and measuring pitcher. Silicone spatula set and egg whisk are perfect for cooking and baking while the melamine spoon rest keeps countertops clean in the process. Stainless steel 6" Nakiri and 3-1/2" paring knives are at the ready for use atop hardwood, acacia cutting board. Dishwasher safe.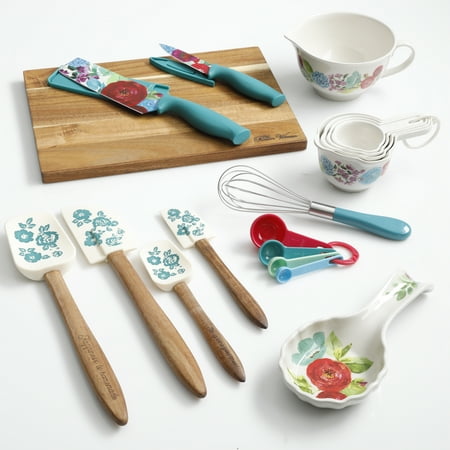 Click here to find this at Walmart.
14. Mixed Material Utensil Set
Contemporary set coordinates mixed materials to create durable, multipurpose utensils, making it a perfect gift for the modern kitchen. Variety of silicone, navy, or merlot colored utensils with beechwood handles are flexible, non-stick, and heat-resistant to 450°F. Rigid nylon with stainless steel handle spaghetti spoon, ladle, and tongs are heat resistant up to 400°F. Dishwasher safe.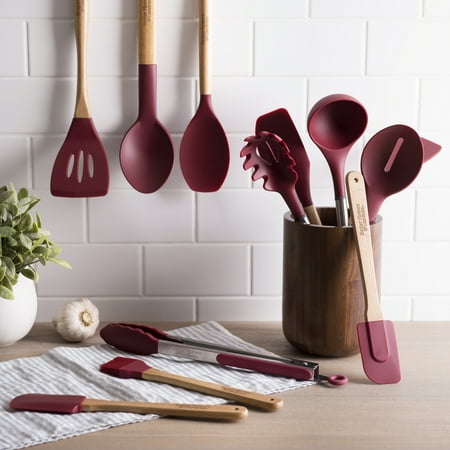 Click here to find this at Walmart.
15. Automatic Pan Stirrer with Timer
The perfect gift for someone who is always on the go, but appreciates healthy, home-cooked food. Let the automatic pan stirrer do the work. This free-standing utensil can be set into any simmering sauce, then set the timer for continuous stirring. No more burnt-on bottoms, just perfectly cooked sauces. Batteries not included. Hand wash only.
Click here to find this at Uncommon Goods.
16. "A Mother's Love" Measuring Spoons with Rack
There may be no true measure of your love for Mom, but express your sentiment by giving her these handcrafted pewter measuring spoons. Etched with the phrase, "A Mother's Love Is Beyond Measure," these intricately designed spoons not only delve out ingredients but make a lovely accent piece hung on the accompanying rack. Hand wash only and polish.
Click here to find this at Uncommon Goods.
17. Music Note Measuring Spoons with Rack
Gift this handcrafted, pewter measuring spoon set to the musician in your life. A symphony of flavor comes measure by measure as ingredients are added using eighth-note shaped spoons. Wall-mount rack provides decorative hanging storage. Hand wash only and polish.
Click here to find this at Uncommon Goods.
If all this shopping has piqued your interest in utensils, check out our blogs to learn about the best utensils for your own kitchen.
What is Better: Nylon or Silicone Utensils?
Kitchen Utensils: the Ultimate List [Do You Know All 56?]