Freezer baskets are a great way to organize your frozen foods. You can make the most use of your freezer space by being able to stack baskets or boxes and spot things easily. With grocery shopping being something we prefer to do more sporadically these days, it's great to be able to make the most of the freezer. Plus, it looks nice to keep our storage orderly. You can group like items together and take things out of larger boxes for ease of storage. Many baskets come with a space for an optional label or an area to use a freezer marker.
Disclosure: When you buy using links on this page, we may get a small commission, so thank you!
Whether you have a side by side or a slide-out bottom freezer or a top freezer may dictate the types of storage you choose. Wire baskets are great for a lower freezer because you can easily take them out to find what you need. See-through plastic bins are super for a side by side or upper freezer where you can easily see into them to find the item you're searching for. Our suggestion is to measure your freezer first and figure out the type of storage layout you need for your most frequently frozen stored items.
We've gathered some great freezer basket options of you in this post that will provide the storage solutions you need.
Wire Freezer Baskets
1. Set of Two Freezer Baskets With Built-In Handles
This is a handy set of wire baskets with built-in handles. Each measures 11" x 10" x 5.5" deep, and they also come in a larger size of 11.8 x 11.8 x 7" deep. These are sturdy steel with a PE coating so they will not rust and will look nice for years to come. They're easy to clean with mild soap and water and also easy to grab and go out of the freezer.
Click here to see these on Amazon.
2. Farmhouse Style Graphite Baskets
These baskets are made of sturdy steel with a durable rust-proof finish that has a farmhouse vibe. Built-in handles make these easy to slide out our pick up if you need the whole basket. Store popsicles, baked goods, or individual smoothie bags in this handy-sized basket. They are sold individually and are 12" x 6" x 6" deep. They're also available in chrome and white.
Click here to see these on Amazon.
3. Set Of Four Wire Freezer Baskets
More great storage solutions for you with this convenient set of four storage baskets for the freezer. There are two medium-sized ones at 15.6 x 11.4 x 5.9 inches, and two large-sized ones at 16 x 11.4 x 5.9 inches. Easy to stack and still see what's inside of the lower basket. Great for storing bags of frozen veggies or cans of juice concentrate.
Click here to see these on Amazon.
4. Organizational Trays
If you need a shallow basket, this set might work for you. Each tray measures 16.1 x 8.1 x 3.6 inches deep. The built-in handle is easy to grip, and the finish is rust-resistant, so it stays looking great. Available in chrome as shown, or bronze or graphite colors.
Click here to see this pair on Amazon.
5. Four Pack With Space For Basket Label
This four-pack set of baskets each has a convenient slot to add a card for labeling the contents. Do you freeze meals? Label them for the days of the week. These baskets are available in 3 sizes: 12" x 9" x 6", 12" x 12" x 6",  and 16" x 12" x 6". They're available in matte black, satin, and bronze colors.
Click here to see these on Amazon.
See-Through Plastic Freezer Bins
1. Slim See-Through Bins
These 16 x 16 x 5" bins are an excellent slim storage container for the freezer. Easy-grip handles and easy to see what's inside are a hallmark of this design's versatility. Use them for baking goods or snacks or excess nuts and be able to grab in a quick go or simply slide out to reach what you need at the moment.
Click here to see these on Amazon.
2. Stackable Rectangular Bins
Here's a two-pack of conveniently stackable bins. This is the large size at 12.5" x 8.5" x 3.5 inches, but it comes in a total of 4 sizes. It's made of a BPA free food-safe and non-shattering clear plastic. Handles make it easy to grab when you need it.
Click here to see these on Amazon.
3. Clear Bin With Handle
This clear plastic freezer bin is equipped with an easy-grab handle for ease of removing and returning to the freezer. This is great for top shelves where you might need slightly easier access. The large bin measures 12" L x 6.75" W x 4.25" and the medium bin measures 12" L x 5" W x 4.25" H.
Click here to see this cool bin on Amazon.
4. Linus Design Modular Freezer Bins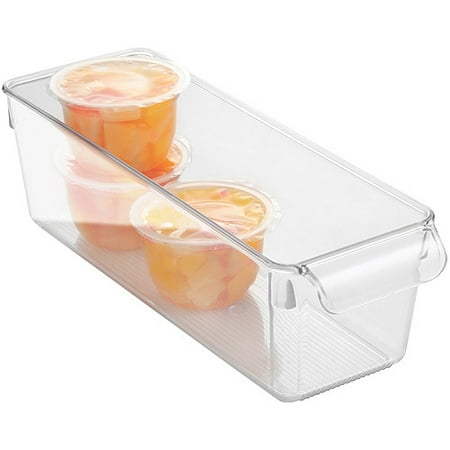 These bins are part of a line of freezer and pantry storage systems. This is a great size though at 29.21 cm x 10.16 cm x 8.89 cm. Combine it with other products by the same company to create the ultimate in organized freezer space. The contoured edge handle is a nice additional feature.
Click here to see this at Walmart.com.
5. Clear Plastic Freezer Organizer Set
This set of six is a great place to start to meet all of your fridge and freezer storage needs. The set includes two wide drawers that are ideally sized to fit fruits, vegetables, and other larger sized food items and two narrow drawers, sized to fit snacks, condiments, and other slimmer sized items. It also contains one dispenser drawer that holds ten - 12oz cans, small-sized food cans, juice boxes, and other types of drinks, and one egg drawer.
Click here to see this on Amazon.
Plastic Freezer Bins
1. Freezer Bin Drawer Attachable to Shelf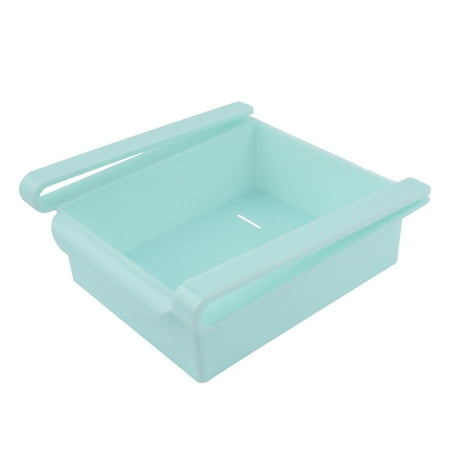 This stylish and retro-looking freezer drawer is unique because you can attach it to hang from the shelf above it. This gives function in a space that might otherwise be empty. The size of this drawer is 16.3 x 15.4 x 6.8cm(L*W*H), and it comes in blue, green, pink, or white.
Click here to see this on Walmart.com.
2. Ventilated Six Pack of Freezer Baskets
This six-pack of freezer baskets is ventilated and has easy to grasp handles for moving items in and out of the freezer. Have one for each day of the week or each person in your family. Each basket is 13.75" x 10.75" x 5", which is a great size for multiple types of items.
Click here to see this on Amazon.
3. Plastic Shallow Storage Trays
Here's another six-pack of storage trays in plastic. These are shallow in depth but quite wide. They would work well for frozen meat packages or frozen vegetables. Each tray is 11.22"x7.87"x2.76"(L*W*H), and they have convenient built-in handles for moving them around.
Click here to see these on Amazon.
Remember, measure your freezer first and assess your needs before ordering bins and baskets. But then don't delay. You'll simply love having such an organized space for your frozen foods.
If you enjoyed this post here at KitchenSeer.com, please check out these others for more food storage solutions!
13 Types Of Food Containers You Should Know About
10 Fantastic Bamboo Food Containers You Should Check Out