If you're like most people, the space under your kitchen sink is a mess. Cleaning supplies, dishwasher pods, and random kitchen gadgets are likely strewn about in that often forgotten about storage space. It can be easy to quickly let that space get out of hand.
But did you know that there are products on the market that can transform the underside of your kitchen sink to a well-organized space? That's right — it's time to say goodbye to an unorganized under-kitchen-sink space. To make it easier for you, we've compiled a list of 15 awesome under-kitchen-sink storage ideas. Without further ado, let's check them out!
1. Xtreme Mats Under Sink Mat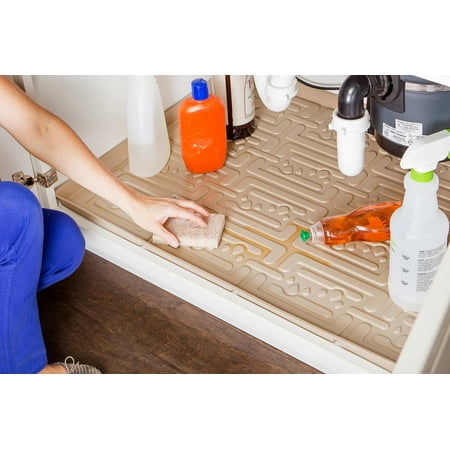 This mat provides stellar spill protection, so you can keep the items under your sink nice and dry. The elevated design channels spilled liquid to the back of the mat, so you don't have to worry about it soiling the items under the sink.
This mat comes in two color options and a variety of sizes, so you can order the one that will fit under your sink.
Click here to see more on Walmart.com.
2. Household Essentials Cabinet Door Under Sink Organizer Rack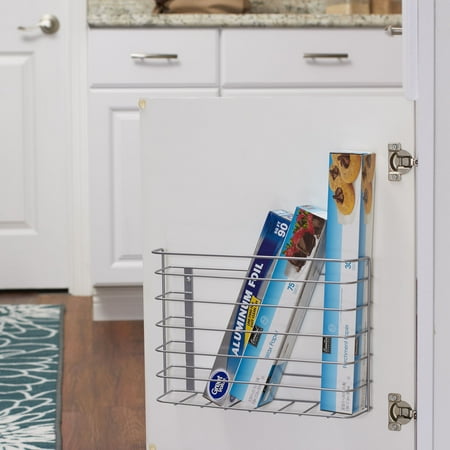 This organizer simply mounts to the inside of a cabinet door. It's made out of metal, so it's sure to hold up for years of use. It measures 13.5 inches by 9.38 inches by 3.25 inches, so it is the perfect size for storing things like aluminum foil, plastic wrap, and parchment paper.
One reviewer says this organizer takes up little space but is very functional.
Click here to see more on Walmart.com.
3. Rev-A-Shelf Cabinet Door Mount Organizer
This maple cabinet door organizer mounts conveniently to the inside of a cabinet door. The included metal rails ensure that this organizer fits perfectly on your cabinet door. This rack measures 18 inches wide, so it's ideal for storing cleaning supplies and other kitchen maintenance essentials.
Reviewers say that this organizer is sturdy and useful and that it functions well as an aesthetic accent.
Click here to see more on Amazon.
4. Expandable Under Sink Kitchenware Storage Rack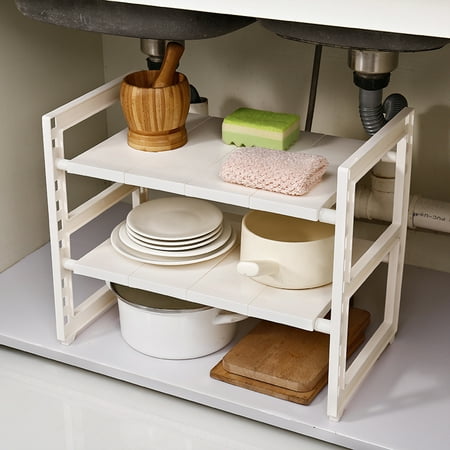 This storage rack is made out of sturdy environmentally-friendly materials. It is expandable, which means the height of the rack can be adjusted to accommodate your kitchen essentials. This storage rack will help you maximize the space under your kitchen sink.
Click here to see more on Walmart.com.
5. Adjustable Under Sink Shelf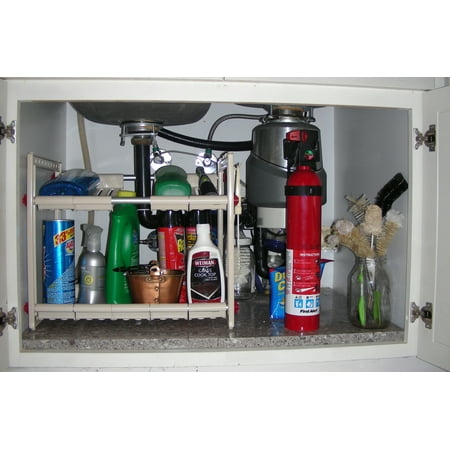 This is another adjustable under the sink shelf. It measures 18 inches by 12 inches by 16 inches when not extended, but both the height and width of the shelf are adjustable. Included are 12 snap-on plastic plates 3 snap-on hanging hooks, and 4 non-slip foot pads.
The shelves are made out of durable plastic, and the telescopic tubes are made out of anodized aluminum, meaning they will not rust. The assembly process is a breeze, and no tools are required.
Click here to see more on Walmart.com.
6. Rev-A-Shelf Removable Under Sink Caddy
This under sink caddy is unique in that it slides on metal rails and is removable. When you need to take your cleaning supplies to a different part of the house, simply slide the caddy out and remove it. When you're finished, it will slide neatly back under your kitchen sink.
The caddy is made out of durable metal, and it measures 11.25 inches by 16.25 inches by 19.5 inches. It is also equipped with bottom bumpers for stability and protection. Included is a removable top tray for paper towels or other kitchen cleaning essentials.
One reviewer said that they would buy this product again.
Click here to see more on Walmart.com.
7. Auledio Metal Under Sink Shelf Organizer
This under sink 2-tier shelf organizer is constructed from durable, lightweight stainless steel, so it will last for years and won't rust. Included are 7 removable shelves, so you're free to customize the organizer to suit your needs. The best part is that this shelf can be set up in just a few minutes!
Reviewers say that this shelf is easy to assemble and that it is extremely sturdy.
Click here to see more on Amazon.
8. COSTWAY Under Sink Bamboo Storage Shelf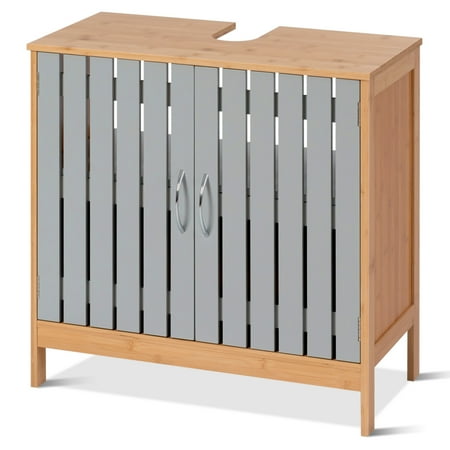 This under sink storage shelf is unique because it's constructed primarily from bamboo! The shelf measures 24 inches by 12 inches by 24 inches, so there's plenty of room for your cleaning supplies and other kitchen essentials. It has a weight capacity of 11 pounds, so it's quite sturdy. The door is also equipped with a magnetic button that keeps the door securely closed.
Click here to see more on Walmart.com.
9. Rev-A-Shelf Tip-Out Front Sink Tray Set
Two 11 inch tip-out trays are included in this set. The trays conveniently mount to the sink's front panels, and they are perfect for neatly storing sponges, other cleaning supplies, or any kitchen essentials that will fit.
Reviewers say that these trays help reduce pesky countertop clutter.
Click here to see more on Amazon.
10. Under Sink Expandable Organizer Rack
An organizer rack like this one makes the most of the space you have. It increases storage capabilities and has a concise, no-frills design. It weighs only 2-pounds, but it can handle a significant amount of weight on its two shelves. Its expandable design gives it the ability to fit under a wide variety of sinks.
Click here to see more on Amazon.
11. Polder Under Sink Cleaning Supplies Caddy
Your kitchen cleaning supplies shouldn't have to be in hard to reach locations. This under sink cleaning supplies caddy makes it easy to grab what you need. It features two wire crossbars where you can hang spray bottles. There's a snap-on bucket for sponges, cans, gloves, and more along with an adjustable divider insert to customize your storage caddy.
The caddy is crafted from strong, durable plastic that can hold up to 15 pounds. It's designed so that you can easily clean it when needed. It measures 16 inches in height.
Click here to see more on Amazon.
12. Command Under Sink Sponge Caddy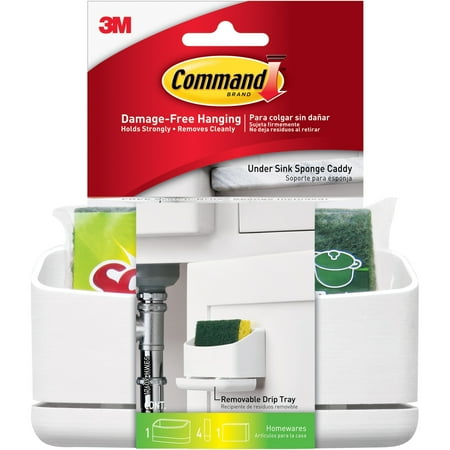 Command Brand has a wide range of products, all to ensure you get the most out of your organization and storage. This under sink sponge caddy neatly hides away the unsightly, sometimes stinky kitchen sponge. It's kept out of sight yet easy to access.
The caddy features drainage holes so that the sponge doesn't sit in standing water or other grime. The tray at the base catches the water so it doesn't leak where it's not welcome. The caddy sticks below the sink with the adhesive command strip.
Click here to see more on Walmart.com.
13. Lynk Professional Slide Out Organizer
Sliding organizers certainly make life (and storage) a lot easier. The rollout drawer is made out of high-quality steel and chrome, ensuring a smooth glide every time you use it.
It measures 10 inches wide and 20 inches deep and has an adjustable design to best fit all types of containers and cabinets. The slide-out design keeps unsightly items safely tucked away until ready for use. Customers who have bought and reviewed this item say that it's easy to install, it works great, and is sturdy.
Click here to see more on Amazon.
14. Under Sink Hanging Fruit Basket
Save space on your countertop with this under sink hanging fruit basket. If you love the convenience of keeping fruit on hand, but you don't want it out in the open, this item will be well-loved. The slanted panels of this organizer make it easy to fit inside the kitchen cabinet. You could even store kitchen cleaning supplies or other items.
Instructions are clear and the assembly is quick and easy. The basket comes with two foam strips for the hooks in order to avoid scratching the cabinets.
Click here to see more on Amazon.
15. Lynk Professional Slide Out Under Sink Drawer
If you can't get enough of slide-out designs, check out this under sink drawer. The U-shaped design is made to fit around those bulky under the sink pipes. The drawer helps you make the most of the space that's under the sink.
This chrome and steel constructed slide-out drawer has three different dimensions available. With the options, you're sure to find one that works for your kitchen design. The easy-glide roll out makes sure it slides smoothly, even while it's weighed down.
Click here to see more on Amazon.
Let us know in the comment section below which under the sink storage pieces you decide to add to your kitchen! Before you go, be sure to check out these other kitchen guides:
Types Of Kitchen Tongs [And What They're Used For]
13 Best Walmart Food Processors