Frying food in a frying pan just isn't the same as using a deep fryer. Deep fryers vary in their features, making it possible to fit your personal needs and wants. Things to consider when shopping for a deep fryer include safety, size, capacity, cost, and the intended use.
Disclosure: When you buy using links on this page, we may get a small commission, so thank you!
Whether you want to make fried chicken, battered fried fish, doughnuts, cheese sticks, or any other delicious fried foods, a deep fryer will quickly become one of your absolute favorite kitchen appliances. While it's not a kitchen essential, it sure makes for an excellent kitchen addition.
Now that your mouth is watering just thinking of fried food, let's get into it. We compiled a list of 10 of the top deep fryers available at Walmart so you can get to frying!
1. Presto Big Kettle Multi-Cooker
The Presto Big Kettle deep fryer cooks up to 8 cups of food. It has a nonstick surface both inside and out, making cleaning a breeze. This fryer's basket can also be used for steaming foods. If you take the basket out, you can cook other foods like soups, rice, and pasta. The Presto cooker is amazingly versatile in its design.
It has a Control Master heat control system, ensuring accurate temperatures and heat distribution. After the heat control system is removed, all parts are dishwasher safe.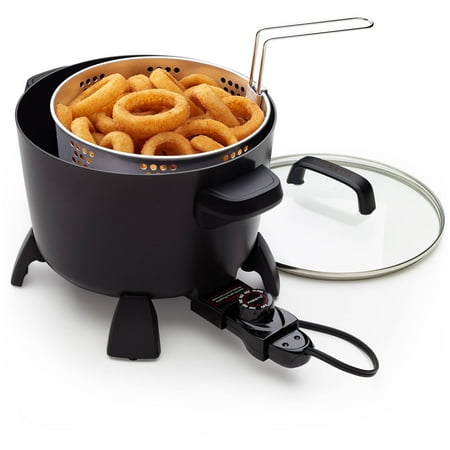 Click here to see more at Walmart.com.
2. Presto Stainless Steel ProFry Deep Fryer
Don your kitchen with professional-style kitchen appliances like this one to instantly upgrade its look. It has a dual basket design and a 12 cup capacity. This flexibility allows you to cook a lot of food at once if you need to. Thanks to an 1800 watt immersion element, the fryer heats very quickly.
It has a removable splatter shield to prevent oil from getting everywhere and making a mess. You can clean off the fryer with a damp rag. The fryer can also be used as a steamer and boiler.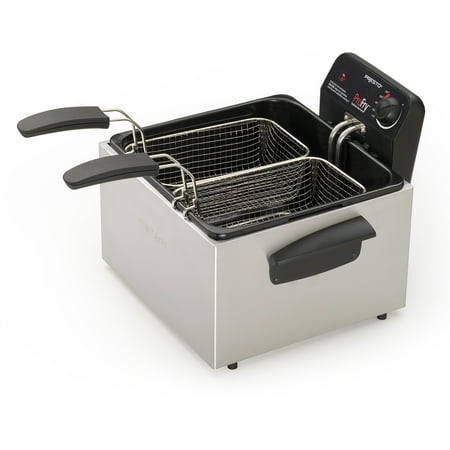 Click here to see more at Walmart.com.
3. GranPappy Electric Deep Fryer
This electric deep fryer has a unique, bucket-shaped design. If you're looking for a fun feature for your kitchen, this may be the one for you. This fryer is rather simple in design, heating to a single frying temperature.
It has a 6 cup capacity. The GranPappy fryer has an interior and exterior nonstick coating that makes the cleaning process simple. The fryer also comes with a scooper to lift, drain, and serve food.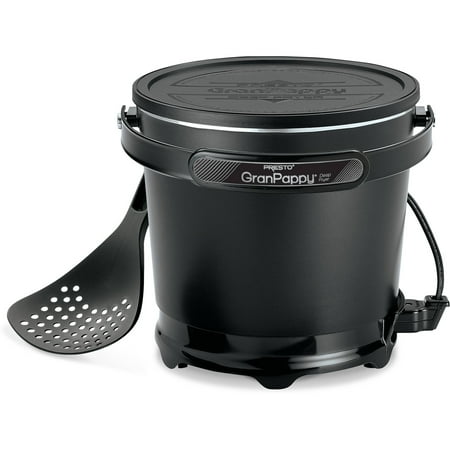 Click here to see more at Walmart.com.
4. CoolDaddy Elite Electric Deep Fryer
The CoolDaddy fryer is compact, small enough not to take up much space on the kitchen countertop. It has a 6 cup capacity, the perfect room for just about anything. It features an exterior handle to lower the food into the hot oil. The food cooks while the lid is closed to prevent oil spatters. It also has a small window on top of the lid so you can monitor the cooking process.
The CoolDaddy has an automatic pre-set frying temperature. A light pops on to indicate the food is finished frying and it also has a charcoal filter to diffuse odors.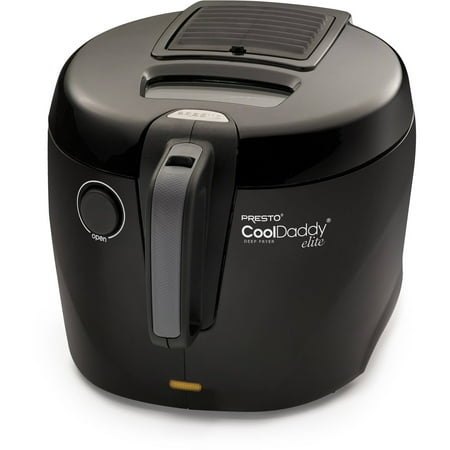 Click here to see more at Walmart.com.
5. DualDaddy Electric Deep Fryer
The DualDaddy fryer has a special divider so you can cook two separate foods at the same time. It's also removable if you only wish to cook one type of food. It automatically heats up to the ideal frying temperature. This feature makes the cooking process easier for you with fewer factors to monitor. The snap-on lid allows you to save the oil mess-free.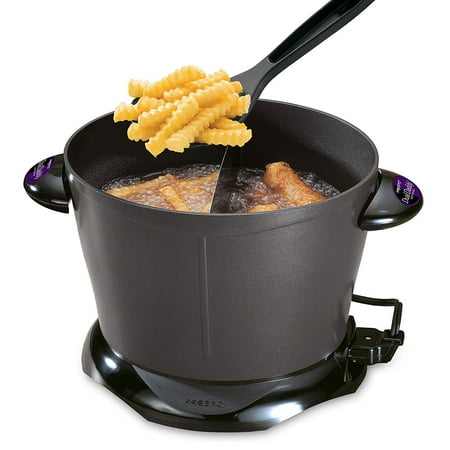 Click here to see more at Walmart.com.
6. Kalorik Deep Fryer
If you take your deep frying very seriously, consider the Kalorik deep fryer. This stainless steel fryer has a 4.2-quart capacity and is ideal for family or group-sized meals. It has a control system that monitors time and temperatures up to 375 degrees F. Note that it does have an open top, making it easier for oil to splatter.
One unique aspect of this fryer is its oil filtration system. The bottom portion of the fryer is a separate container that houses the oil for future use.
Click here to see more at Walmart.com.
7. Proctor-Silex Professional-Style Deep Fryer
Bring in this convenient Proctor-Silex deep fryer to your kitchen for making all kinds of deep-fried goodness. This stainless steel fryer has a 1.5 liter capacity for oil. The heating element is in the pot so that the oil can heat up faster. An indicator light will turn on when the oil has reached optimal frying heat. It has a hook to put the frying basket for quick draining.
All the parts of this deep fryer are removable so that you can deep clean the entire appliance. Having removable parts also make it easy to store.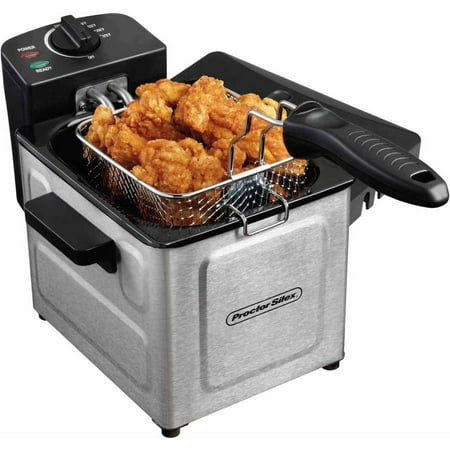 Click here to see more at Walmart.com.
8. Toastmaster Stainless Steel Deep Fryer
This stainless steel Toastmaster deep fryer features an adjustable temperature control knob. The adjustability factor gives you a lot of freedom for finding the ideal cooking temperatures for different foods. The fryer has a 2.5-liter capacity.
The fryer comes with a lid so that you can reduce the chance of oil splatters. The lid has a window so that you can monitor the frying food. The oil pan is removable, so it's a trouble-free cleaning process.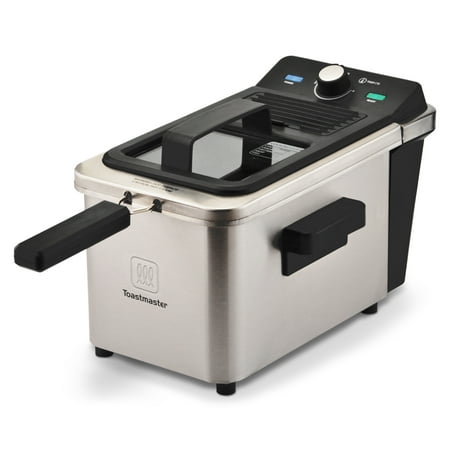 Click here to see more at Walmart.com.
9. De'Longhi Cool Touch Roto Deep Fryer
The De'Longhi roto fryer is something like never seen before. The roto technology uses half the amount of oil as regular fryers. If you love fried foods but want a little bit of a healthier option, try this one out. The fry basket is tilted and rotates, guaranteeing that the food gets an even, crispy fry. The handle is on the exterior of the fryer to prevent it from getting hot.
It cooks with the lid closed. The lid has a window so that you can monitor the cooking process and watch the magic happen. The fryer even has a patented easy-clean oil draining system to avoid hot oily messes.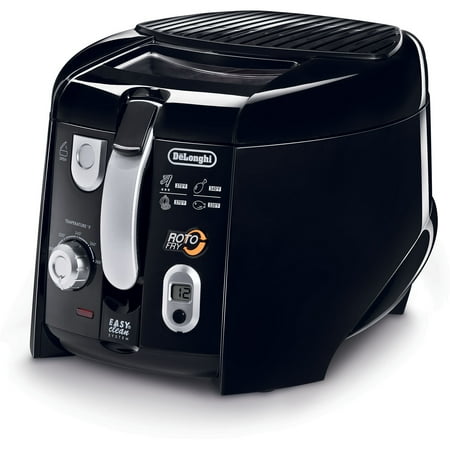 Click here to see more at Walmart.com.
10. Hamilton Beach Professional Deep Fryer
Feel like a professional when you use the Hamilton Beach deep fryer in your kitchen. There are even two fryer colors from which you can pick: black and red. Its 2-liter capacity gives you the ability to cook lots of food quickly. It cooks the food while the lid is closed to help limit the amount of mess that's created. The lid features a window so that you can monitor your frying food.
This deep fryer has a cool-touch body so that you don't burn yourself. It also has a double filter system, adjustable heat system (to achieve the perfect frying temperature for various foods), a cooking timer, and a frying pot that's dishwasher safe.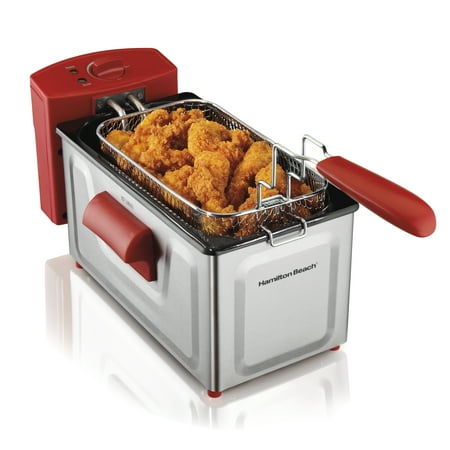 Click here to see more at Walmart.com.
Before you go, be sure to take a look at the following deep fryer guides:
What Can You Use A Deep Fryer For?
What Kind Of Oil Do You Put In A Deep Fryer?
How To Clean A Deep Fryer With Vinegar