Whether you are cooking a slice of toast or an entire roast chicken, the ever-ready toaster oven is up to the task. This compact appliance can take on the job of any traditional oven, just on a smaller scale. You can roast, toast, grill, and bake in your toaster oven if it is well equipped.
Most toaster ovens come with a standard rack and drip/crumb tray. But did you know that you can select from a wide variety of petite pans and other accessories for your toaster oven? We've put together a list of highly-rated accessories for you to see how to add enjoyment and ease to toaster oven cooking.
So, to help you out for the next time you want to try a new recipe with your toaster oven, we have created a list of great toaster oven accessories. Without further ado, let's check them out!
Toaster Oven Pans
Toaster oven pans are sized just right to fit inside compact ovens. Typically, smaller pans measure 10" x 7," and larger pans measure 12" x 8." If you are not sure about the internal size of your toaster oven, you can either check the instruction manual for specifications or use a ruler to measure the internal length and width.
Check out these professional quality pans so you can bake, roast, and air-fry in your toaster oven.
1. Bakeware Set By Farberware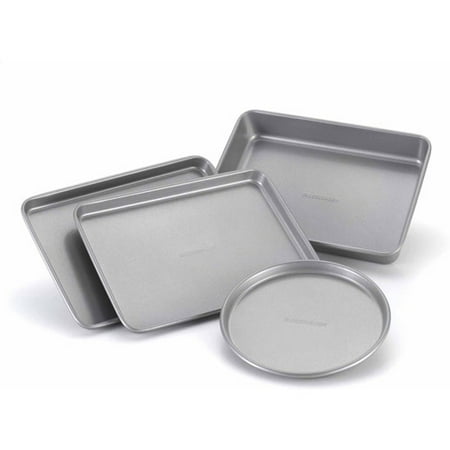 Grab the right pan for any recipe to pop into your toaster oven with this Farberware set of four baking pans. The set includes two cookie pans (10"x 7"), one pizza pan (7"), and one cake pan (10" x 7"). Easy to clean, long-lasting non-stick finish assures you an easy retrieval of your delicate baked goods. It is oven safe to 450°F.
Click here to find this at Walmart.
2. Pan Set By Home-Style Kitchen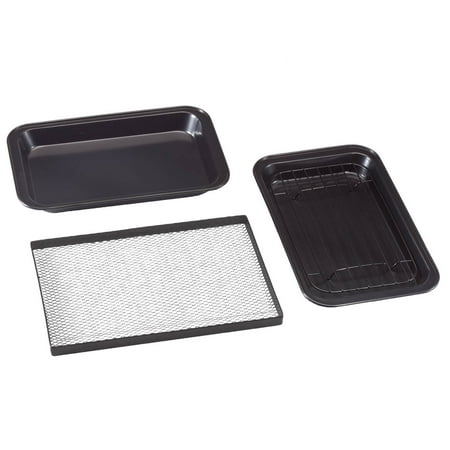 Get the most of out your versatile toaster oven when you use this set of three pans by Home-Style Kitchen. Grill or broil on the broiling pan with an included drip tray. For an even flow of air circulation around your food, use the screen pan to get a crisp end result. Prepare a cake or casserole with ease in the baking pan. All pans have a non-stick finish. All of the pans in this set measure 11-1/4" x 7".
Click here to find this at Walmart.
3. Bakeware Set By Range Kleen
Enjoy the ease of non-stick pans for both cooking and cleaning afterward with Range Kleen's set of three toaster oven pans. Always have the right pan for either baking, roasting, or crisping. Petite 10" x 8" size of each pan fits neatly into smaller toaster ovens. They are oven safe to 350°F.
Click here to find this on Amazon.
4. Power Air Fryer Oven By Emeril Lagasse
If you want an all-in-one appliance, Emeril's Power Air Fryer Oven steps up the task by giving you multiple pan options. Emeril's oven comes fully equipped with commercial quality baking pan, drip tray, crisper, pizza rack, and rotisserie skewers.
Click here to find this on Amazon.
Want to fully equip your kitchen with the right pans? Our post Types of Pots and Pans has everything you need to know.
Other Toaster Oven Accessories
Adding a few simple accessories to your toaster oven lets you have fun while you cook and clean-up afterward with ease. Check out these top picks for handy toaster oven accessories. 
5. Oven Liner By Handy Gourmet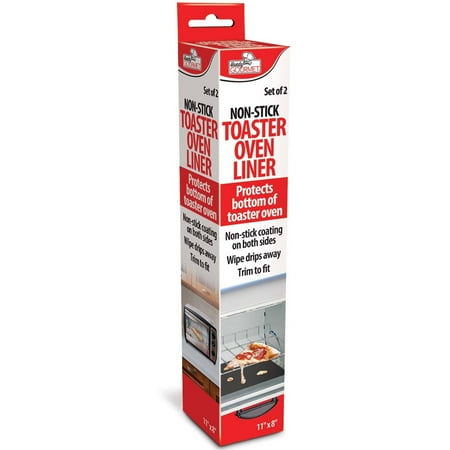 Protect the inside of your toaster oven and make it easier to clean when you use an oven liner. Pre-sized liner sheets (11" x 9") can be placed along the bottom of your toaster oven or used to line the crumb tray.
No more baked-on mess because the liner catches crumbs, drips, and spills. Non-stick surfaces on both sides just need a wipe clean. Cut to size for smaller toaster ovens. Replace the liner after multiple uses.
Click here to find this at Walmart.
6. Silicone Baking Mat By Silpat
This completely non-stick silicone baking mat is the perfect size for your toaster oven baking pan. Simply place the 10.5" x 7.5" Silpat at the bottom of your pan or cookie sheet.
You can easily remove baked goods without stuck-on corners and bottoms to serve a picture-perfect goodie every time. Made from 100% food-safe, non-leaching materials. Cleaning is a breeze; just remove the Silpat and toss it into the dishwasher.
Click here to find this on Amazon.
7. Oven Thermometer By Rubbermaid
By using Rubbermaid's oven thermometer to monitor the temperature inside your toaster oven, you will always know when your food is warming, baking, and broiling. Stable base and top hook give you two mounting options, to either set the thermometer below the rack or hang from the rack. An easy to read dial gives you the temperature with just one glance.
Click here to find this on Amazon.
8. Gripper Clips By Bonison
Do not risk burning your fingertips; instead, grab that hot pan from the toaster oven by using gripper clips. Strong, stainless steel clips grip onto pans, bowls, and plates by using non-skid, heat-resistant silicone pads.
Just one gripper clip can hold up to 5-lbs, but use two clips at once to lift heavier pots from the stovetop. They are 100% dishwasher safe.
Click here to find this on Amazon.
Steer clear of hot edges, and read our post Top 10 Heavy Duty Kitchen Tongs to get equipped for cooking.
9. Roaster Rotisserie Skewers By Winnerbe
Transform your toaster oven into a rotisserie to roast delicious kebabs, chicken wings, and slow-cooked barbeque. Food is evenly roasted from every angle. Stainless steel skewers by Winnerbe are durable and easy to clean. Your oven must be equipped with a rotary bar in order to properly assemble the roaster rotisserie skewers.
Click here to find this on Amazon.
10. Broiling Pan By Nordic Ware
Roast, sear, and grill with this versatile broiling pan. The perfect size for your toaster oven, this 12" x 7.38" sized broiling pan catches drippings to leave your food full of flavor but not grease. Nordic Ware's non-stick finish makes cleaning a breeze.
Click here to find this on Amazon.
Now that your toaster oven has all the accessories you need, it is time to start cooking!