If someone in your life spends the majority of their time in the kitchen, the best gift you can get them is a unique kitchen appliance that they're sure to appreciate. There are tons of nifty kitchen gadgets on the market that you can choose from!
For your convenience, we've compiled a list of the best kitchen appliance gift ideas for 2020, and we have them divided by price range so you can choose the one that best suits your budget. Without further ado, let's check them out!
Kitchen Appliance Gift Ideas Under $50
If you're on a limited budget, don't worry. We found several appliances under $50 that are excellent values.
1. Grilled Cheese Toaster Basket
Enjoy the yummy taste of grilled cheese without the usual accompaniment of messy cleanup! This two-slot grilled cheese toaster makes the cooking process a breeze. All you have to do is place your sandwich in the toasting basket, adjust the toasting knob to your cooking preference, then slide the handle down to begin toasting.
The baskets can be removed to provide an easy cleaning process. There's also a cord wrap area on the bottom of the toaster for clutter-free storage.
Click here to see more on Amazon.
2. Waffle Maker
Waffles are an all-time favorite food, hands down. Whether it's breakfast, lunch, or dinner, you can always find an excuse to make waffles. This waffle maker is completely mess-free with its built-in sides for overflow batter. Plug it into an outlet and it heats up in a matter of minutes.
The non-stick surface covers the whole waffle press to prevent any mishaps and unnecessary messes. The waffle maker splits into four sections, perfect for sharing. You can also use your waffle maker for other foods like hashbrowns, paninis, and desserts.
Click here to see more on Amazon.
3. Dual Electric Sandwich Maker And Panini Grill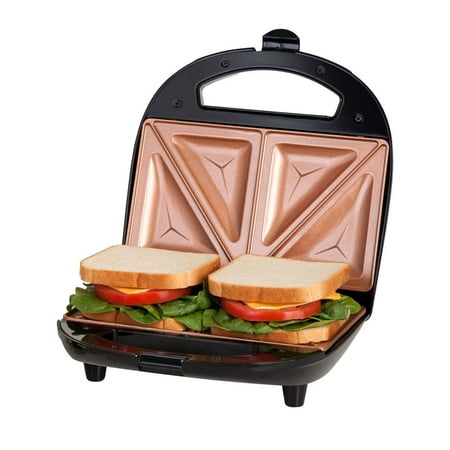 Step up your sandwich game with this dual electric sandwich maker. The copper surface is ultra nonstick and will evenly cook the contents between its grill plates. You won't even need to add oil or butter to the plates!
Its compact size and shape are ideal for storage and minimal counter spaces. The built-in indicator light will even let you know when the food is done.
Click here to see more on Walmart.com.
4. Electric Food Steamer
Steaming your food has never been easier. This electric food steamer has three tiers, perfect for cooking an abundance of food. There's a 60-minute timer for safety. The steamer includes two 3.5-quart bowls and a 1.5-quart bowl. Each tray has 6 egg rest holes for boiling eggs. There's a water level viewing window, too.
Parts of the steamer are dishwasher safe. It breaks down to a nesting storage function for convenient, consolidated storage.
Click here to see more on Amazon.
5. Full-Size Cupcake Maker
This full-size cupcake maker lets you bake up to 6 delicious cupcakes in minutes. The handy indicator lights alert you when the machine is on, preheated, and ready to cook. A safety lock ensures that the appliance is securely closed while cooking. What's more, the nonstick cooking surfaces make cleaning a breeze.
This amazing cupcake maker is available in these colors: red, magenta, and teal.
Click here to see more on Amazon.
6. Floral 6-Quart Portable Slow Cooker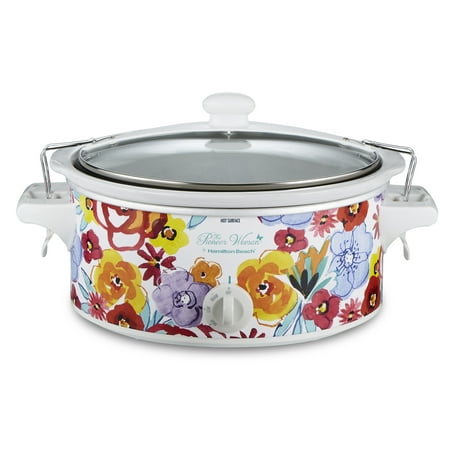 What makes this 6-quart slow cooker unique is its bright floral design and the clips that tightly seal the lid for spill-resistant travel. This nifty feature allows you to take your delicious meal to social gatherings with complete spill protection.
Click here to see more on Walmart.com.
Kitchen Appliance Gift Ideas Between $50 And $100
If you have a slightly more flexible budget for an appliance gift, check out these awesome products!
1. Cuisinart Griddler
This countertop appliance functions as a contact grill, panini press, full grill, full griddle, and half grill/half griddle. In other words, this product is an all-in-one solution for all things grill and griddle. It measures 13.5 inches by 11.5 inches by 7.12 inches, and the housing is made out of brushed stainless steel.
The nonstick cooking plate is removable and is dishwasher safe.
Click here to see more on Amazon.
2. Family Size Electric Breakfast Station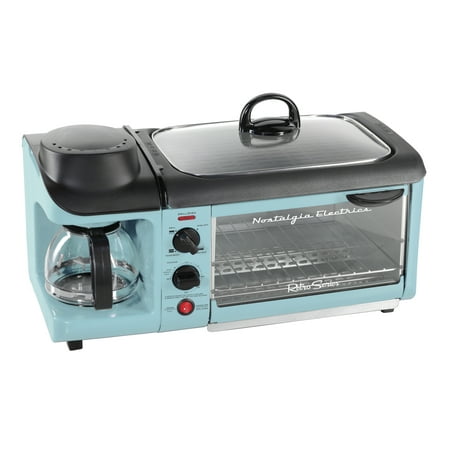 This breakfast station is perfect for the family that cherishes breakfast time. This appliance allows you to make coffee, eggs, and toast, and more all at the same time! Its compact design makes it ideal for smaller spaces like apartments and campers.
And cooking isn't the only thing that's easy — cleanup is too! The oven tray, wire rack, crumb tray, and nonstick griddle are all removable.
Click here to see more on Walmart.com.
3. Pizzazz Plus Rotating Oven
This rotating oven by Pizzazz allows you to cook pizzas and other delicious foods right on your countertop. This appliance has heating elements on both the top and bottom, ensuring that the food is baked evenly. What's more, these heating elements can be controlled separately for perfect results! It also uses merely 60% of the energy of a conventional oven. What's not to love?
Click here to see more on Amazon.
4. Hamilton Beach Big Mouth Juice Extractor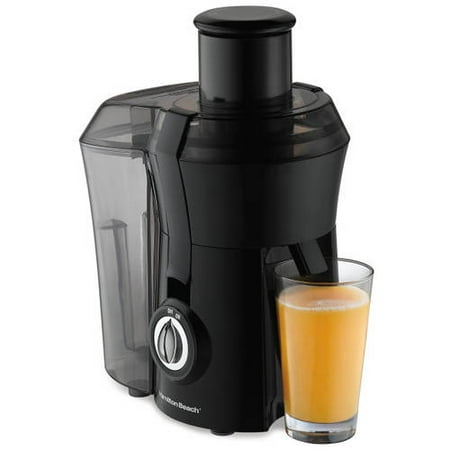 There's nothing better than freshly-squeezed juice from your favorite fruit. With this appliance by Hamilton Beach, you can have delicious juice in seconds! It features an extra-large pulp bin which allows you to juice for longer. Also included is a cleaning brush, so you can keep it running in tip-top shape.
What's more, all of the parts are dishwasher safe, so cleanup is a breeze.
Click here to see more on Walmart.com.
5. SodaStream Sparkling Water Maker Kit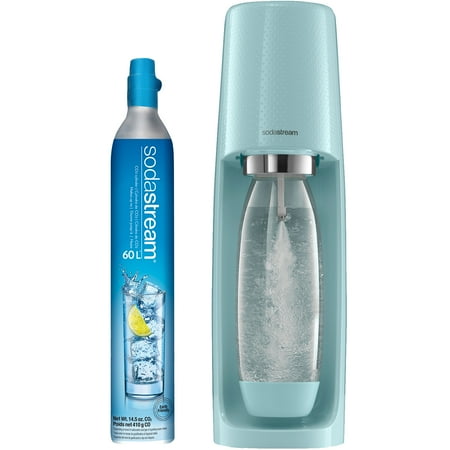 Is someone in your life a sparkling water fan? Did you know that there's a way to make sparkling water right in your kitchen? That's right, this appliance makes it possible. This machine by SodaStream turns plain water into sparkling water in mere seconds!
This appliance is available in the following colors: black, icy blue, red, rose gold, and white.
Click here to see more on Walmart.com.
Kitchen Appliance Gift Ideas Over $100
If you want to go all in and purchase an upscale kitchen gadget for your kitchen master, take a look at these awesome products!
1. Cuisinart Soft-Serve Ice Cream Maker
This soft-serve maker will be a real treat for ice cream lovers. This appliance is a fully automatic soft-serve ice cream maker with a double-insulated freezer bowl. It also has 3 condiment containers for sprinkles, M&Ms, and other tasty toppings. And since it's Cuisinart, you can rest assured that the quality is superb.
As an added bonus, this machine is available in both white and pink.
Click here to see more on Amazon.
2. Family Size Air Fryer
If you know someone that loves frying food the healthier way, this appliance is for them. This air fryer has a whopping 16.9-quart capacity, which is enough to fit a whole chicken, turkey, and other large meals. The transparent window allows the user to easily monitor the dish while it fries.
This air fryer is also available in black, white, and blue.
Click here to see more on Amazon.
3. KitchenAid Artisan Series 5-Quart Stand Mixer
The KitchenAid mixer has become one of the staples of the modern kitchen, and for good reason. It can mix 5 quarts of ingredients are various speeds while you prepare other ingredients. Included are a flat beater, coated dough hook, 6-wire whip, and pouring shield.
A number of color options are also available, so you can choose the one that goes best with your kitchen.
Click here to see more on Amazon.
4. Nespresso VertuoPlus Limited Edition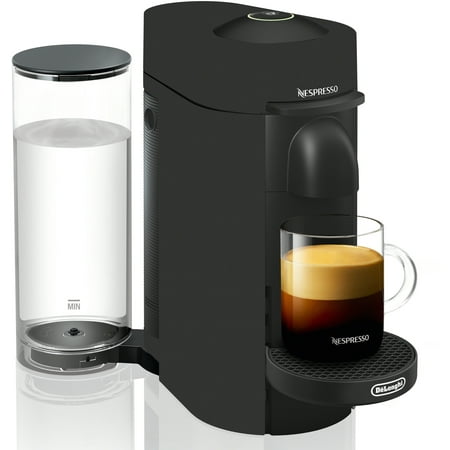 The Nespresso VertuoPlus is arguably one of the best gifts for coffee aficionados. It's one of the most diverse coffee machines on the market, as it can make a variety of unique kinds of espresso-based coffee. This appliance is very user-friendly, so your coffee lover will have no problem operating it.
This coffee maker has a matte black finish, so it will be a sleek addition to any kitchen.
Click here to see more on Walmart.com.
Let us know in the comments section which product you're going to gift to the special kitchen master in your life! Before you go, be sure to check out these other guides:
14 Luxury BBQ Gift Ideas For The Man Who Has It All