When it comes to entertaining, chips and dips are a must-have food. They're the life of the party after all.  There is a multitude of ways in which you can serve them, too. Whether you're serving guacamole and salsa or your favorite family dip recipe, the perfect chip and dip bowls are a must.
Disclosure: When you buy using links on this page, we may get a small commission, so thank you!
We compiled a list of individual chip and dip bowl ideas to get you inspired for your next get together. Find a fit for every occasion. Let's check them out!
Chip Bowls
A chip bowl can help set the stage for this food pairing. They come in many different sizes, shapes, colors, and patterns.
1. Ecosmart Polyflax Bowl
This brown translucent serving bowl is constructed from recycled plastic with suspended flax husk. It's even made from zero waste. So if you're looking for a very eco-friendly chip bowl option, this is the one for you. The brown color is a bit mottled looking, giving it a unique aesthetic.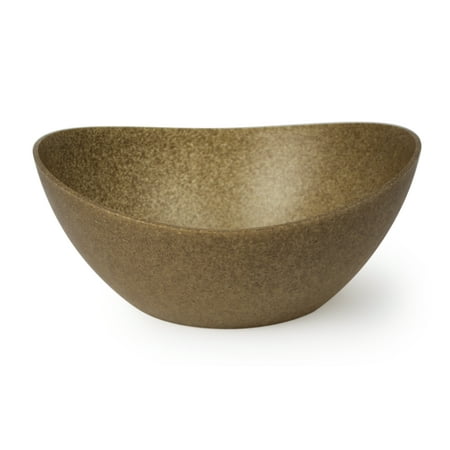 Click here to see more on Walmart.com.
2. Country Rooster Serving Bowl
Whether you have a farmhouse-style kitchen or simply like the aesthetic it offers, this country rooster serving bowl is a fun option. The blue and white color scheme is adorable and perfect for the country look. The edge of the bowl features a whimsical design. It's crafted from durable plastic and is dishwasher safe.
Click here to see more on Walmart.com.
3. Set Of Clear Acrylic Bowls
These large acrylic bowls are great serving bowls for chips. Since they're see-through, they'll match any aesthetic you use them in. Whether it's a birthday party or family get together, you won't want to leave these bowls out of the party. The acrylic is durable, high-quality, and BPA-free.
Click here to see more on Amazon.
4. Mexican Folk Art Painted Bowl
If you want a truly unique serving bowl, give this one a shot. This bowl has been given a beautiful Mexican folk art paint makeover. Both the inside and outside have been coated in an assortment of bright colors that are truly eye-catching. The bowl is made out of one solid piece of gorgeous wood.
Click here to see more on Amazon.
5. Southwest Serving Bowl
Bring some southwestern flair to your chip table with this serving dish. The bowl makes an impact, regardless of the style of the other items on the table. It's made from plastic and is very durable, standing the test of time. It measures 13.75 inches across.
Click here to see more on Amazon.
6. Cherry Wood Bowl
Wood is quite the well-loved material when it comes to nearly any kind of kitchen utensil or dish. Natural wood grain provides a lot of organic beauty. This cherry wood bowl has a wavy finish along its rim, adding to its aesthetic. The stain used is food-safe and the wood is durable. When it needs washing, only handwash it.
Click here to see more on Amazon.
Dip Bowls
Dip bowls are the ultimate companion for a chip bowl. There are many creative options when it comes to this kitchen serving dish. You're sure to find the perfect one based on your preferences!
7. Iced Serving Bowl
If you've ever experienced biting into a warm dip when it really should be chilled, you'll be thankful for an iced serving bowl like this one! Gone are the days of lukewarm dip. Your dip will stay chilled for hours. This iced serving bowl features a 22-ounce stainless steel dip bowl that nests into an acrylic base that you fill with ice.  It also comes with a snap-on plastic lid to store the remaining dip with ease.
Click here to see more on Amazon.
8. Dipping Bowl Set
Bring on the fiesta with this dip trio set. The ceramic bowls feature a festive design on each and the bottom color of each one is different. The bottoms are colors of blue, green, and red, and they're all finished with a glossy glaze. The bowls are even microwave and dishwasher safe, making preparation and clean up a breeze. The 9-ounce bowls are accompanied by a serving tray, too. Fill your table with these vibrant beauties.
Click here to see more on Amazon.
9. 3-Tier Dipping Bowls
Serve your dips in style with this 3-tier dipping bowl set. Goodbye ordinary. This rack elevates the dip bowls and adds an extra element to the display. The porcelain bowls measure 5 1/4 inches wide. The bowls are removable, making it easy to fill them and clean them.
Click here to see more on Amazon.
10. Fiesta Serving Bowls
This style of dip bowl is one of the most recognized styles. They're typically used when serving Mexican food, but can be really incorporated into any style. You'll receive 6 of these plastic serving bowls, including 2 black ones, one red, one yellow, one orange, and one green. The color variety is a nice addition. They're microwave and top-rack dishwasher safe.
Click here to see more on Amazon.
11. Dip Bowl Set
What expresses a love for dips more than a bowl that says "Dip dip hooray"? The accompanying spreader says "I'm party trained," which is oh-so-perfect. These types of bowls are perfect for parties and get-togethers. With serving bowls like these, it's easy to make serving fun. Guests will love the cheeky saying. Hand washing is recommended for this piece.
Click here to see more on Amazon.
12. Jade-Colored Dip Bowl
If you want to add a subtle pop of color to your table, this is the dip bowl for you. The glass bowl has a soft jade hue, bringing just the right amount of charm. It can fit in with just about any style, too. The bowl measures 3.5 inches in diameter. It's microwave and dishwasher safe, helping you keep the prep and clean-up simple.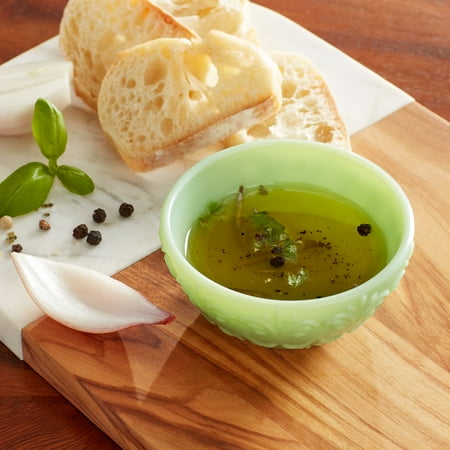 Click here to see more on Walmart.com.
13. The Pioneer Woman Dip Bowl Set
Each bowl in the set features a slightly different floral pattern on the outside and a festive pop of color on the inside. This set comes with 8 3.12-inch diameter dip bowls. To help with convenience, the bowls are all microwave and dishwasher safe.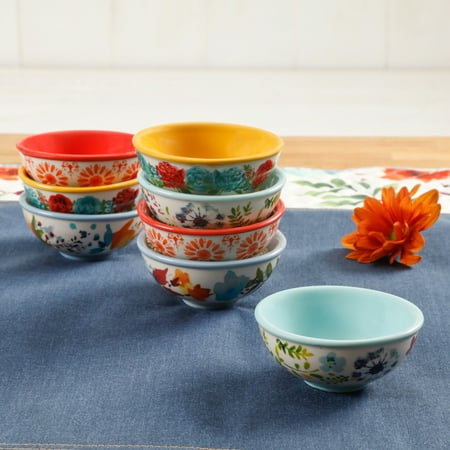 Click here to see more on Walmart.com.
Before you go, be sure to check out these other kitchen guides:
Is It Better To Store Food In Plastic, Glass, Or Stainless Steel?