When installing kitchen equipment, you want the finished result to be both aesthetically pleasing and workable. If it is time for you to add or replace a range, you might wonder how far the oven should stick out from the cabinets. We've researched different range models to get the answer for you.
Disclosure: When you buy using links on this page, we may get a small commission, so thank you!
Ideally, a properly installed oven should be flush with the cabinets. When the oven door is closed, both door and handle should stick out only between 1" and 2" from the cabinets.
Keep reading, and we'll give you all the details you'll need to install either a replacement or new range with an oven in your kitchen.
Can I Replace a Freestanding Range with a Slide-in?
Because most kitchen equipment is available in standard sizes, you can replace a freestanding range with a slide-in range. Both types are available for gas, electric, and dual-fuel.
However, freestanding and slide-in ranges are not interchangeable. You must also consider the range's dimensions, control configurations, and installation requirements.
Range Dimensions
A standard freestanding range, with an oven and four-burner stovetop, measures 30-inches wide, 36-inches tall, and 25-inches deep.
Slide-in ranges have an additional 1-inch width along the stovetop, to overhang the countertop for a flush finish.
Click here to find this Frigidaire range at Walmart.
Standard range height and depth rarely fluctuate because these measurements accommodate typical countertop dimensions. But, you can find narrower and wider ranges.
Professional Ranges (6 Burners/Griddle/Double Ovens)
Two additional burners on a six-burner range increase the standard width to 36-inches. Even wider, 48-inch and 60-inch models tend to have a commercial-looking style. Intended for professional cooks, broad ranges feature six-burners, a built-in griddle, and double (side-by-side) ovens.
Click here to find this ZLINE range on Amazon.
Compact Ranges (2 to 4 Burners/Oven)
Compact range models designed for narrow spaces are available in both widths of 20-inches and 24-inches. Smaller models feature either two or four burners and an oven.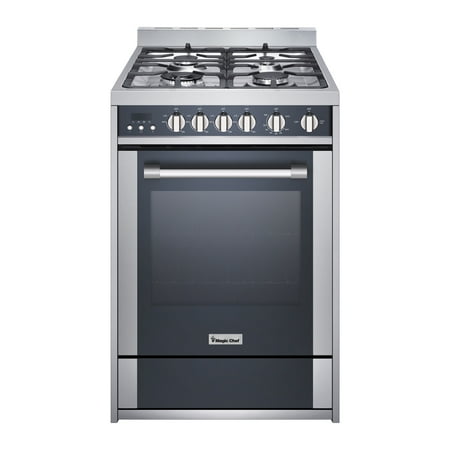 Click here to find this Magic Chef range at Walmart.
Range Control Configurations
Freestanding range models can have either back-guard controls/display or front-mounted controls/display. Slide-in range models have only front-mounted controls/displays.
Range Installations
As the name implies, freestanding ranges are designed to stand-alone. Freestanding ranges have finished sides, leaving a narrow gap when installed between cabinetry. The traditional back-guard protects your kitchen wall from stovetop splatters.
Slide-in ranges have unfinished sides, with a layover lip along the countertop, so they fit seamlessly into the cabinetry. But, slide-in ranges leave a gap behind the range that is typically filled with a 2-inch strip of the countertop. Without a back-guard, the tile backsplash should also be extended to the base of the countertop.
Do Slide-in Ranges Stick Out?
Slide-in ranges are installed so that, with the oven door open, the front side edges of the range are flush with the cabinetry and do not stick out. Once the oven door is closed, the door and handle should only extend between 1 and 2 inches from the cabinetry.
Are Slide-in Ranges Worth It?
For roughly the same cost as a freestanding range, between $1,500 and $3,000 depending on features, we think a slide-in range is worth the investment for your kitchen. Here's why:
A properly installed slide-in range has a sleek finish, to give your kitchen a modern look.
Convenient, front-access controls/display mean you no longer have to lean over a hot stovetop to adjust the range or oven temperatures and set the timer.
Flush sides and overlapping countertop lip make for an easy to clean surface.
Aesthetic appeal added to your kitchen by an appliance that is seamlessly installed to blend into the cabinetry.
How do I Fill the Gap Between My Stove and Cabinets?
Installing a slide-in range solves the problem of a gap because its unfinished sides fit neatly into the cabinetry. The range of a slide-in has a lip that overlays the countertops, for a streamlined finish and added bonus of preventing drips down the face of the cabinetry.
Freestanding ranges are stand-alone appliances with finished sides. But, these finished sides often leave a gap between the range and the cabinets that can be difficult to clean. Protect against drips, splashed grease, and fallen crumbs by installing a gap cover between the stovetop and countertop. Silicone gap covers are heat resistant and available in both light and dark shades to blend with your countertops.
Click here to find this on Amazon.
How Far Should the Fridge Be From the Stove and Oven?
Ideally, any kitchen's layout should promote fluid workflow and ample counter space. A kitchen triangle is often referred to as the most accessible layout by situating the three, most commonly used work areas near the refrigerator, range, and sink in a triangular-like frame around your counter space. The fridge and stove, for example, would be placed between 4-feet and 9-feet apart so you could reach either with a few, brief steps across an unobstructed aisle.
As for counter space, the recommended landing space beside a range is either a minimum of 15-inches on both sides or 12-inches on one side and 15-inches on the other. This gives ample room to work for food preparation, cooling, and carving.
You do not want to crowd the fridge and range together because both appliances generate heat. A fridge's compressor is already hard at work to keep your food cool but will be less energy efficient if a hot oven is cooking beside it. The fridge also needs ventilation for optimum performance, so leave approximately 1/2" to 2" of a gap between the fridge's exterior walls and nearby cabinetry.
Get all the details on refrigerator placement at our blog posts:
Where to Place a Refrigerator in a Kitchen [3 Crucial Considerations]
How Tall is a Refrigerator on Average?
How Close Can a Stove be to the Wall?
Contractors recommend leaving 15-inches of horizontal distance, or landing space, between an oven and a wall in order to meet most building codes for residential kitchens.
Keep in mind that building codes do vary depending on your location (state, city, county, and municipality). Building codes exist for our safety and are particularly important in kitchens, because fuel lines, electricity, and waterlines are placed within close proximity.
Before you start a DIY installation, find the building codes, and permit requirements for your locale at buildingsguide.com.
Can You Put a Range in Front of a Window?
There is no golden rule, or building code for that matter, that says you cannot put a range in front of a window. But, should you? Consider the many reasons why placement of a range beneath a window might not be the best idea for your kitchen layout.
Exhaust hood will block the view.
A breeze through an open window can blow out gas burner flames.
Dirty splatters, grease, and steam will need constant cleaning for a clear view through window glass.
Intense heat from stovetop and oven can prematurely age window sealant to cause drafty, leaky cracks and discoloration.
Cannot hang blinds or curtains because of fire hazards near exposed burners.
Now that you know how to select and install both types of freestanding and slide-in ranges, you'll be able to choose the right model for your kitchen and get back to cooking in no time.