Cooking with your kids or grandkids is a great way to have quality time and foster an important life skill. And once they've started cooking, they may not want to stop. They may find they love the kitchen and creating delicious recipes for the rest of the family.
Disclosure: When you buy using links on this page, we may get a small commission, so thank you!
A great way to foster this wholesome activity is to give them gifts related to cooking. We've gathered a collection of super fun items, from cooking gadgets and kid-friendly cookbooks to size appropriate aprons, to give to all the young chefs in your life. Without further ado, let's check them out!
Cooking Kits for Kids
1. Baketivity DIY Cooking Kit
This all in one baking kit comes with pre-measured ingredients, easy step-by-step photo instructions, and a fun educational bingo game to play while your cupcakes are baking. It's enough for six cupcakes. The eggs are not included.
Click here to see this on Amazon.
2. Kid's Chef Set With Kitchen Tools
This cute set will have your kid looking and feeling like a real chef. From the apron to the hat to the matching oven mitt, your kid will be cooking in style. Throw in their own personal kitchen tools, cookie cutters, and frosting scrapers and they will know you consider them a true gourmet chef.
Click here to see this on Amazon.
3. MasterChef Junior Kitchen Tools Set In Orange
This boxed set by MasterChef is the junior version of real pro tools. A MasterChef junior apron is included with the heavy-duty washable tools. There are even recipe cards to get your young cook started out right.
Click here to see this on Amazon.
4. Creative Kitchen Set
This is a gift that is meant to be used while teaching your child how to move around in a kitchen. Twenty family-friendly recipes are meant to be cooked together. The BPA-free kitchen-quality tools include measuring sets, a chef's hat and apron, cookie stampers, classic cooking utensils, and so much more. This is the perfect gift for beginners in the kitchen!
Click here to see this on Amazon.
5. Unicorn Cookie Cutting Set
Who doesn't love unicorns? This set comes with an absolutely adorable unicorn apron. It also has unicorn-themed cookie cutters, a rolling pin, icing bags, and tips, along with a helpful instruction book.
Click here to see this on Amazon.
6. Curious Chef Kid's Cooking Caddy
This kid-friendly design has a cute look but is filled with real-deal kitchen tools. The carrying caddy has an easy handle and loads of little cubbies for all the necessary tools.
It has a non-stick rolling pin, medium and large silicone mixing spoons, a stainless steel whisk, a nylon cookie turner, a nylon frosting spreader, a pastry brush, a large poly spoon, a vegetable peeler, serving tongs, an ice cream scoop, a pizza cutter, medium and large silicone mixing spatulas, 6-piece measuring spoon and 6-piece measuring cup sets, and small, medium, and large nylon plastic knives.
Your gift recipient will feel like a master chef with this neat kit!
Click here to see this on Amazon.
7. Junior Pizza Cooking Set
Here's another great set from MasterChef. This one is designed for aspiring pizza chefs. High-quality kitchen tools include a pizza pan, a cutting board, a sauce label, and cutter with easy-grip silicone handles. There are also recipe cards for three types of pizza and a blank one to write your own recipe.
Click here to see this on Amazon.
8. Baking Kitchen Set For Young Chefs
This is another fabulous gift kit for the young baker. This set includes a large mixing bowl, a measuring cup, a rolling pin, spatula, silicone cupcake cups, and dusting guards. The recipe cards include kid-friendly recipes and a blank card for adding your own spin on things.
Click here to see this on Amazon.
9. Easy-Bake Ultimate Oven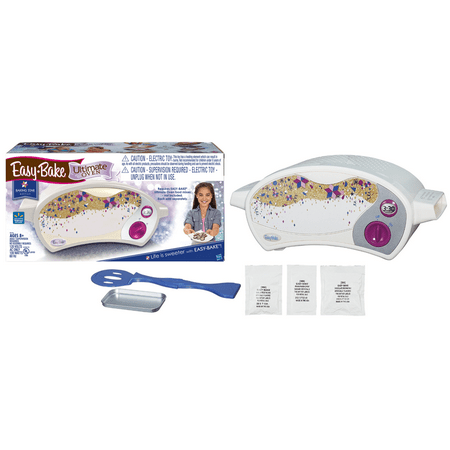 If you want to gift a piece of your own childhood to the child in your life, consider this newest model of the classic Easy-Bake oven. The Ultimate Easy-Bake Oven contains the kits to make sparkle cakes and additional baking kits are available. It comes with a baking dish and a spatula, too.
Click here to see this at Walmart.com.
10. Pizza-Making Tool Kit With Apron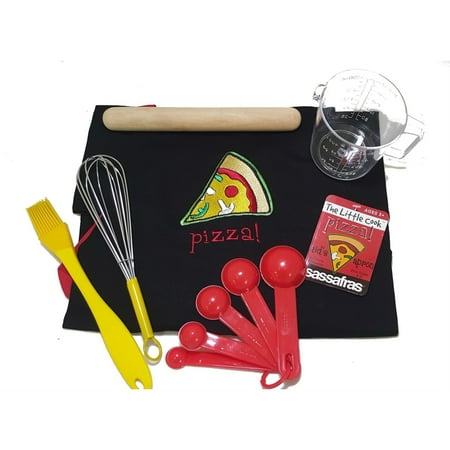 From Sassafrass comes this fun pizza baking kit. Let your favorite kid don this pepperoni studded apron and whip up the perfect crust with the enclosed whisk. It also comes with a rolling pin, a measuring cup, a brush for garlic butter or olive oil, and measuring spoons.
Click here to see this at Walmart.com.
11. Curious Chef 5 Piece Pizza Kit
Here's another great gift from Curious Chef. This is a five-piece pizza making kit that includes nylon tools that are safe for young hands. The cutting board is in the shape of a tomato which is super fun!
Click here to see this on Walmart.com.
12. Intro To Baking Set With Small Tools
This seventeen-piece set is perfect for child-sized hands. It comes with 1 spatula, 1 pastry brush, 1 mixing spoon, 1 silicone loaf pan, 6 silicone baking cups, 1 rolling pin, 1 whisk, and 5 recipe cards. The tools are well-made and long-lasting and will look great in any kitchen. It's always nice to give the gift of experiences, like baking together!
Click here to see this on Amazon.
13. Cute Silicone People Kitchen Utensils
This gift will make a huge impression when you give it to your favorite cooking kid. A rainbow family of kitchen utensils will make everyone in the family smile as each tool takes on its own personality. There are six pieces total, and easy-grip silicone will make it easy for your kid to say, "those are my kitchen tools!"
Click here to see this on Amazon.
Cookbooks for Kids
1. Cooking Class Recipes Cookbook
This spiral-bound cookbook will have your favorite kid chef itching to get in the kitchen and try their hand at these recipes. Basic cooking techniques are explained in kid-friendly language, and recipes include favorites like applesauce, French toast, popcorn chicken, pizza, and more. Full of fresh, healthy ingredients and full of imaginative presentations, this gift will bring inspiration and confidence to your junior chefs.
Click here to see this on Amazon.
2. The Complete Cookbook For Young Chefs
From American's Test Kitchen comes a cookbook for young chefs. It features over 100 recipes to inspire and spark a child's interest in the kitchen. It's a New York Times bestseller and IACP Award Winner!
Click here to see this on Amazon.
3. Good Housekeeping Kids Cook Cookbook
This colorful cookbook has over 100 proven recipes. They are easy to cook and pretty fail-safe. It also includes tips and tricks and techniques for working your way around the kitchen. Every dish also has variations to the recipe to make them super-duper special.
Click here to see this book on Amazon.
4. Pillsbury Kids Cookbook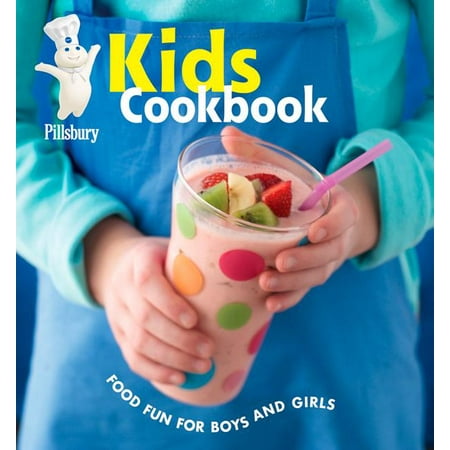 From the makers of Pillsbury Dough, this cookbook has loads of fun and festive recipes. Want to make Bunny Rabbit Pancakes? Hot Diggity Dog Pizza Boats? Jiggly Fruit Salad? This cookbook bursts with great ideas everybody will love. It also contains all the basic tutorials and tips a young cook needs.
Click here to see this on Walmart.com.
Aprons for Kids Who Love To Cook
1. Personalized Junior Chef Apron
Recognize your young kitchen king or queen's status with this personalized embroidered apron. It's available in several fun colors and is personalized with the first name of your favorite cooking kid. It's available in both a regular kid's size and a tall kid's size and is a washable poly/cotton blend.
Click here to see this on Amazon.
2. Happy Camper Apron And Chef's Hat Set
The festive fabric of this chef's hat and apron kit is perfect for the kid who loves to cook while camping or out at the BBQ. It has woodland animals and flowers and the saying "Happy Camping" all over the patterned print. It comes in two sizes appropriate for older or younger kids.
Click here to see this on Amazon.
3. Mickey Mouse Apron And Chef Hat Set
From the official Disney collection comes a cute set designed to dress your own little mouse in the kitchen. Classic Mickey ears top the chef's hat in white and red, and the apron has the hallmarks of Mickey's signature outfit. Velcro closures make this easy to adjust and it is, of course, machine-washable.
4. Solid Color Kid's Apron, Chef's Hat, and Slip-on Sleeves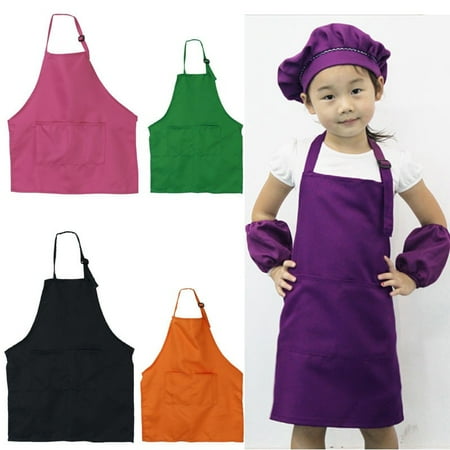 This apron is a colorful statement for the young chef in your life. Available in bold solid colors like orange, purple, hot pink, and green, your child will feel super professional with their very own apron slipped over their clothes. It's machine-washable and an easy-care polyester blend.
Click here to see this at Walmart.com.
5. Sweet Stuff 3-Piece Apron Set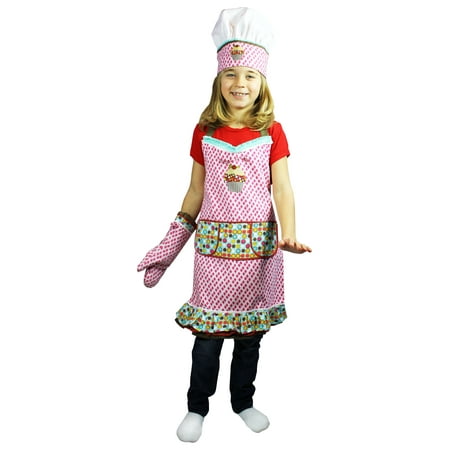 Have a cupcake baker in your life? This 3-piece set is absolutely adorable. It includes a ruffled, patterned apron with an appliqued cupcake on the bib that says "sweet stuff." A matching tall chef's hat and coordinating oven mitt are included. This is a great gift for the kid who loves to bake.
Click here to see this at Walmart.com.
So there you have it. Our rundown of 22 great gifts for the kid chefs and bakers in your life. They will love receiving a gift that is more than just a thing, but something to be experienced and shared. If you enjoyed this gift list, please check out these others:
23 Unique Gifts For Cooking Enthusiasts
14 Luxury BBQ Gift Ideas For The Man Who Has It All