Bakers typically prefer dough to proof or rise, while the bread bakes to achieve a crisp crust with an airy, chewy texture. But for baking specialty loaves like sandwich bread, achieving a dense texture and uniform shape are essential.
Disclosure: When you buy using links on this page, we may get a small commission, so thank you!
Crustless sandwich bread is sliced, typically into square-shaped portions. Condiments, vegetables, and meats are squeezed, or sandwiched together between two slices of bread. You can take a satisfying bite from a fully loaded sandwich made on soft, sturdy bread.
Baking bread dough in a loaf pan with a lid ensures a perfectly shaped, golden brown loaf every time. The top prevents the dough from rising beyond the dimensions of the pan, so air bubbles cannot form as the dough bakes, guaranteeing a consistent texture throughout. Symmetrical sides of the pan prevent misshapen loaves.
If you fancy a sandwich on homemade bread, you probably want to add a loaf pan with a lid to your kitchen's bakeware. These pans are also referred to as Pullman pans and toast molds. Let's take a closer look at what makes a bread pan with a lid special. Keep reading, and we'll also share our top picks for Pullman pans.
Why is it Called a Pullman Loaf?
The fine-grain texture of sandwich bread is referred to as pain de mie by the French, or bread of the crumb. As early as the 18th century, pain de mie was wildly popular in Europe because of its versatility. It was baked in a pan with a lid, and the finished loaves were used for making breadcrumbs, croutons, toast, canapes, and sandwiches.
The Pullman Palace Car Co. of Chicago is behind our modern-day reference of pain de mie, commonly referred to as Pullman bread. In 1886 Pullman Palace Car Co. debuted a new luxury railroad car for dining. The chef's bread of choice for the Pullman dining car was pain de mie because the narrow loaves were easily stored in the railroad car's limited kitchen space.
When served plated on fine china, the bread added an elegant appeal to toast, canapes, and sandwiches. It was exclusive to the Pullman railcar's fine-dining experience. Passengers referred to pain de mie as Pullman bread, and the name stuck.
How Do You Use a Pullman Pan?
Prepare your preferred dough recipe for making a Pullman loaf. Allow the dough to rise, and when it has doubled in size, it is ready to put into the pan. Separate the dough into four pieces. Roll each piece into a flat, elongated shape with a rolling pin. Fold the elongated edges of the dough into the center, then roll-up the dough into a spiral-shaped ball.
You should now have four spiral-rolled sections of dough. Take each section and place side-by-side into the Pullman pan. Place the lid on the pan. Allow the dough to rise slightly after settling into the pan, but not so high that it touches the lid. Bake the bread.
Watch a step-by-step demonstration here: ">
How Much Dough Do I Need for a Pullman Loaf?
The amount of dough for a Pullman loaf will vary between 1-lbs and 3-lbs depending on the length of the pan. Your recipe should recommend pan size, but for baking freestyle, it might help to know that a 9" Pullman pan holds roughly 1-lbs (450g - 680g) of dough and a 13" Pullman pan holds roughly 2-1/2lbs (900g-1200g) of dough.
Did you know you can use a food processor to knead bread dough? Check out our blog post, "13 Best Walmart Food Processors."
How Many Slices Are in a Pullman Loaf?
Do you prefer a thinly sliced bread or thickly sliced bread for your sandwich? Your answer could change the outcome for the number of slices from your Pullman loaf. A commercially made Pullman loaf cut into 1/2" slices produces between 25 and 30 slices depending on the length.
Toast Pullman slices and cut into bite-sized portions to serve with a charcuterie board. Check out our blog post, "What Do You Serve with Cheese Boards," for more platter serving ideas.
Bread Pans with Lids (or Pullman Pans)
1. Paderno World Cuisine Pullman Pan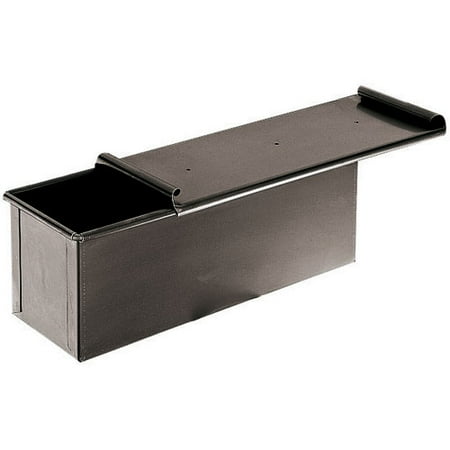 Get professional-grade quality with this World Cuisine Pullman bread pan. Made from durable blue steel, this pan (7-7/8" L x 4" W x 4" H) warms quickly and conducts heat evenly as the bread bakes so you get a golden brown loaf every time. Pre-season your new World Cuisine pan before baking. Hand wash only.
Click here to find this at Walmart.
2. CANDeal Loaf Pan
Flawlessly remove a perfectly browned loaf of bread from CANDeal's aluminum Pullman pan (8" L x 4" W x 4" H) with non-stick coating. Heavy-duty aluminum is food-grade quality, and corrosion-resistant to it will last a lifetime of use in your kitchen. Dishwasher safe.
Click here to find this on Amazon.
3.  QUIGKONG Loaf Pan
Coated, carbon steel Pullman pan (7" L x 4" W x 4" H) features ventilation holes in the bottom to promote even airflow as your bread bakes. The golden hue of the interior/exterior non-stick surfaces is not only aesthetically pleasing but also corrugated to produce a beautifully textured, easy to extract loaf. Hand wash only.
Click here to find this on Amazon.
4. GELISI Mini Loaf Pan
For fewer servings, make a small loaf of bread using GELISI's Pullman pan (5" L x 4" W x 4" H). Highly conductive aluminized steel pan features ventilation holes at the bottom, so every loaf achieves a golden brown finish. Bold gold accentuates the non-stick, corrugated interior/exterior surfaces.
Click here to find this on Amazon.
5. Chicago Metallic 3-Strap Pullman Pan
Maximize your baking efforts when you bake three loaves of bread simultaneously using Chicago Metallic's 3-strap loaf pan with lid (15-3/4" L x 16-23/32" W x 4" H). Glazed aluminum evenly conducts heat throughout each loaf and makes for easy retrieval.
Click here to find this at Walmart.
6. Matfer Bourgeat Exopan Long Loaf Pan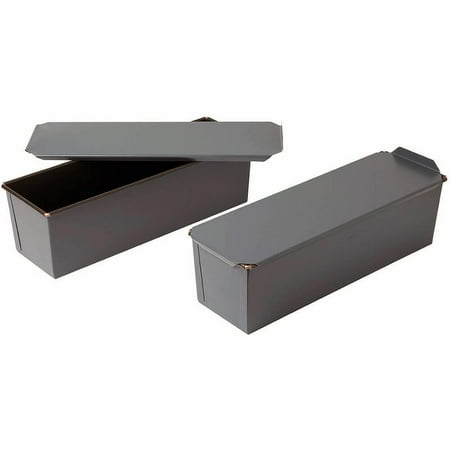 Copper rim promotes even heat distribution across Matfer Bourgeat's steel constructed Pullman pan (15 3/4" L x 4-3/4" W x 4-3/4" H). The non-stick interior coating makes for ease of retrieval while enamel coated exterior protects the pan's longevity.
Click here to find this at Walmart.
7. Sanwood Loaf Pan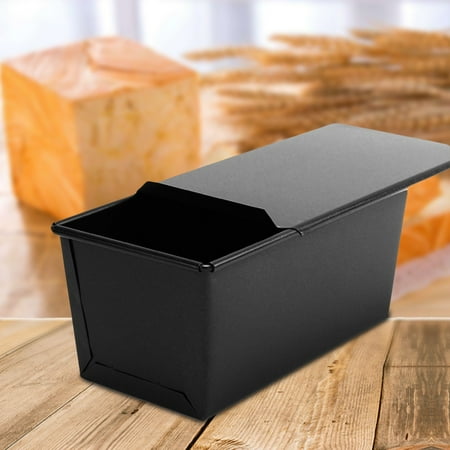 Steadfast, iron loaf pan (11" L x 4" W x 4" H) by Sandwood will withstand a lifetime of baking. Lined with a non-stick coating for easy retrieval, this pan's bottom ventilation encourages even airflow around the entire loaf.
Click here to find this at Walmart.
Now that you know how to bake bread in a Pullman pan, you can enjoy homemade sandwich loaves at home.